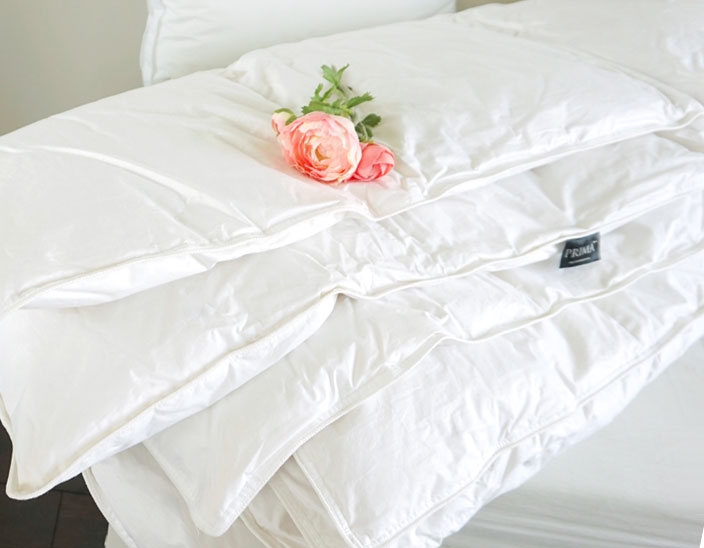 Duvets, comforters and duvet covers—how do they differentiate from each other, and why should you want a duvet, anyway? Duvets are comfy, welcome additions to any bed year-round, making them popular among those who want the best, most luxurious night's sleep they can get. If you are in the market for a duvet, here are the first things you will need to know about buying one.
---
Duvet or Comforter?
Many are confused about what a duvet actually is—how is it different from a comforter? Duvets are a lot like comforters in that they are made of a shell that is filled with down, polyester or another material. The difference between the two is that duvets are usually white and meant to be inserted in a duvet cover that will add colour, texture and/or patterns to the bedding. You can therefore change your bed's style entirely by simply replacing the duvet cover. Comforters, on the other hand, are more of a ready-to-use as-is option, meaning that their shell already provides decorative colours or patterns.
If you are looking for the best duvet for your needs, here's what you need to know:
---
Different Fills for Different Preferences
The common knowledge is that a higher thread count means more comfort. This is typically true, but there is another benefit to a higher thread count for duvets: it does a better job of holding in the fill, especially when it is down. 
As for the fill itself, you can choose between several options: down, down alternatives (synthetic materials that imitate the luxurious feel of down), and materials that meet specific needs such as wool, bamboo fiber, etc.
Down duvets (white goose down is the absolute best) are more expensive but are also good for all seasons. Those who are allergic to down, however, may want to stick to synthetic materials.  The Micro-fiber Duvet and Hotel Five Star Luxury Duvet both provide a luxurious, hypoallergenic alternative to down by mimicking some of its benefits. Specialty duvets, such as the Bamboo Basics Duvet, Gel Cooling Duvet or Australian Wool Duvet offer interesting options for sleepers struggling with specific issues.
---
Understanding Fill Power
Fill power – also called loft – is, well, how full and fluffy your duvet is. Those with a lower fill power are ideal for warmer weather, while those with a higher fill power will keep you toasty during the winter. When it is hot out, stick to a fill power lower than 400. A fill power of 600 or higher is perfect for winter months, and any between 400-600 should be okay at any time of year.
Oh, and a note about weight: more weight does not necessarily mean more warmth! A comforter with a high fill power can be lighter than a high-weight, low fill power comforter.
Now that you know everything there is to know about duvets, browse our selection to find the perfect one for your needs.
---
---