Sending off your daughter to university to explore her independence and start up her own life is a difficult process. During this period of packing and planning, take a few hours out of your schedule for some bonding time. Together, make a date out of shopping for the perfect duvet for your young woman's first home away from home.
Things To Consider:
Discover what sort of bed she'll have use of in residence; it will most likely be either a double or a twin depending on the type of room.
Consider a second duvet as a wise investment so that when laundry day rolls around she can change her sheets without waiting for the other ones to cycle through the wash.
Although white is not a recommended colour for duvet cover it can be ideal for looking neat, crisp and contemporary.
Keep in mind that you are shopping for or with you daughter and that this bedding is something she should want to wake up looking at for the next eight months of the year. With that in mind consider her style and taste before making any decisions.
---
1. Style: Floral
Contemplate a style that will acknowledge your respect for her major – if she's artistically oriented or pursuing a path of science, one of these flowery duvets will surely be appreciated.
Silver Peony Bedding Collection
The colour silver is associated with intuition, meditation and imagination making this the perfect choice for a studious young woman who loves nature. Peonies are also said to bring good fortune and happiness – a winning combination at university.
Available, here.


Willow Green Duvet Cover Set
Whether she's a country girl at heart and down to earth or you just want to remind her of the cottage back home, this light green duvet will be a sure hit.  Airy and fresh, the colour isn't overwhelming so it'll be easy to find great accessories and accent pillows to add a splash of brightness to the room.
Available, here.


Eden Bedding Collection
With splashes of yellow and various greens her bedroom will be calm, beautiful and feel like paradise!
Available, here.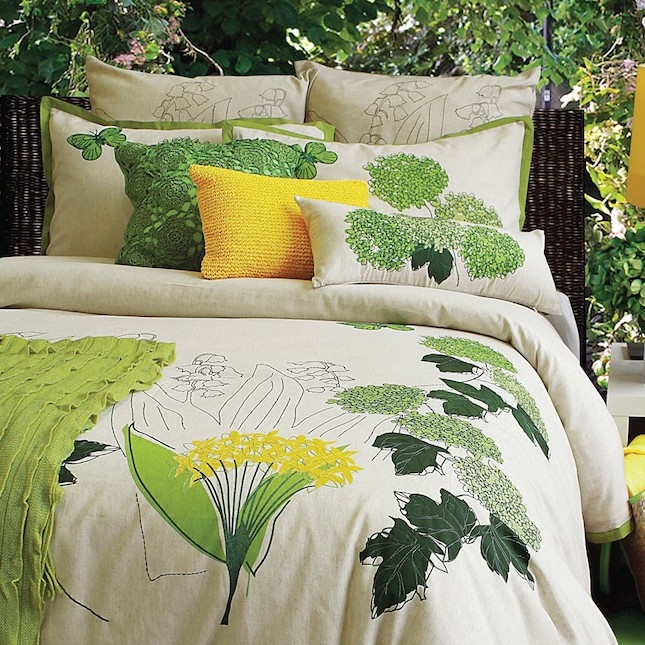 Urban Daisy Bedding Collection
Stop and smell the daisies! If you're looking for floral meets urban chic, look no further than this duvet covered in large artistic daisies.  The combination of black, white and green make it a neutral bedding choice that will easily lighten up any room.
Available, here.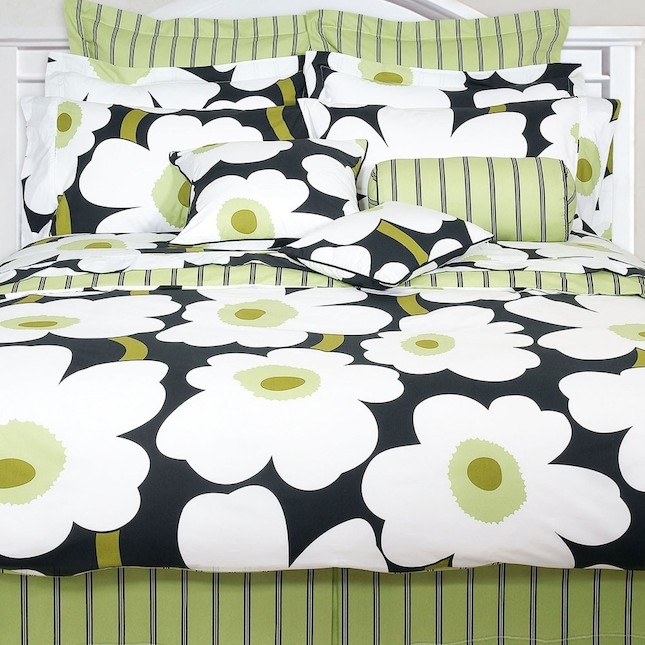 Flower Vines Bedding Collection
Just like a student, flowers grow and bloom under good care and the right amount of sleep. That shouldn't be a problem with this dreamy blue-vined bedding set. Sweet dreams!
Available, here.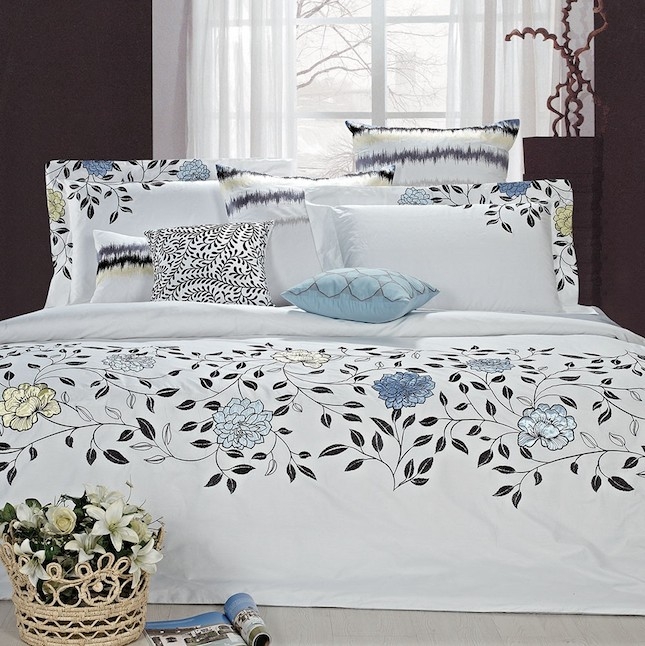 ---
2. Style: Solids
Does your daughter have a favourite colour? You might consider going for a solid duvet to keep things simple and classy.
Solaria 6 Piece Set
Select a striking scarlet to keep your starlet's eye on the prize. Red is proven to be a powerful colour that motivates and energizes, while silver strikes a balance of serenity.
Available, here.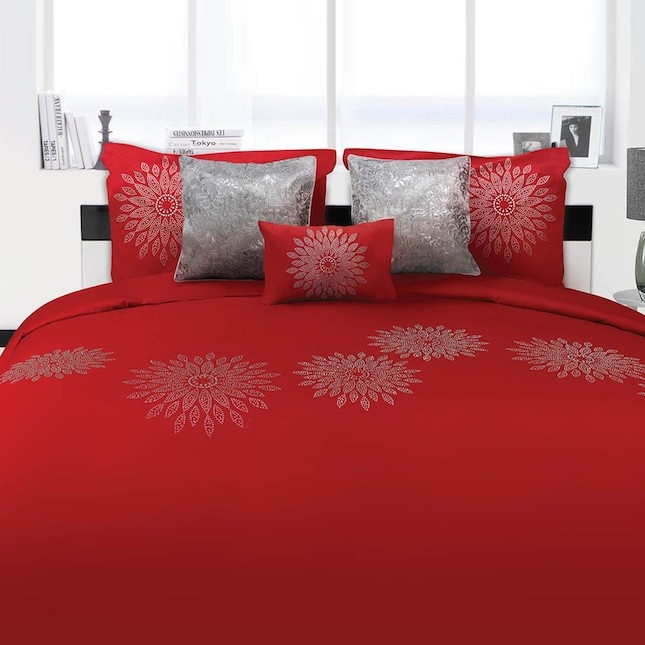 Prep Solid Bedding
Be bold with blue. This bedding by Tommy Hilfiger features a diamond quilted panel and is reversable for when she feels like switching things up.
Available, here.


Cinnabar Hotel Collection
This hotel quality bedding will give your girl the luxury she deserves while she's off pursuing her dreams. This spicy pumpkin coloured bedding set is all comfort. Too much orange? Mix in some white sheets to break things up :)
Available, here.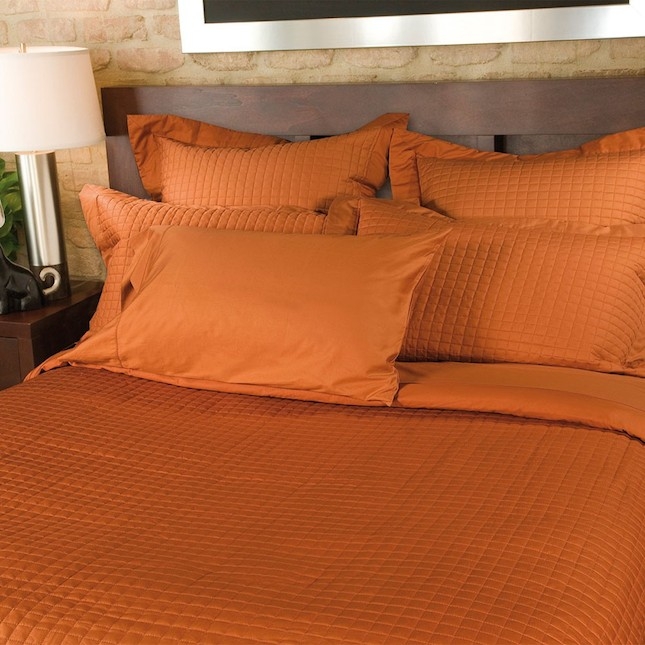 ---
3. Style: Patterns & Plaids
Looking for something pretty and unique? We have a large selection of beautifuly patterned bedding that will be sure to make her dorm room picture perfect.
J'Adore Bedding Collection 
Endorse her desire to travel abroad with a duvet inspired by Paris. With black and white as the staples in this bedding set the possibilities for accents is endless.
Available, here.


Bienvenue Bedding Collection
Help her say hello to her new life (and home) with this light grey bedding set.  Clean lines and typography print make this a cozy and sophisticated sleep set.
Available, here.


Modern Paisley Bedding Collection
Who knew that paisley print was back?  Well, this modern twist on the style ensures class with a touch of individuality and colour.
Available, here.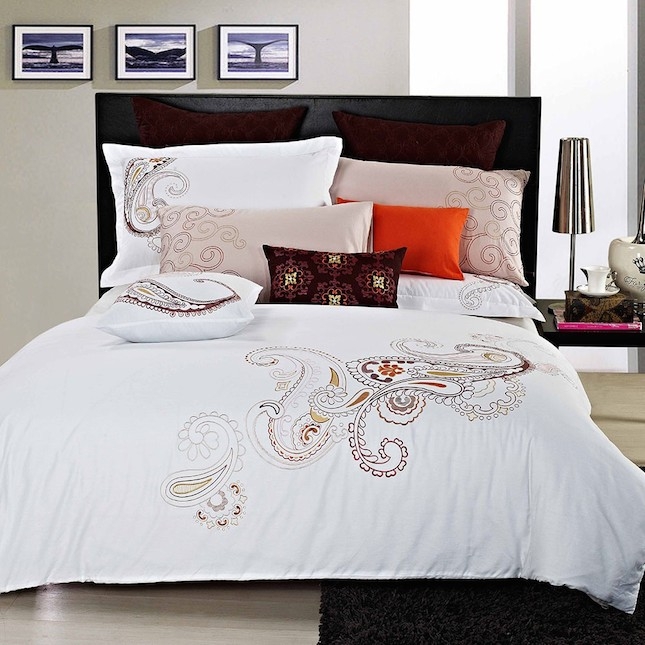 Matai Bedding Collection
This rich blend of purples, pinks and gold will make your daughter feeling like she's receiving the royal treatment.  The array of patterns work in such a way that this bedding set is classy and stylish.
Available, here.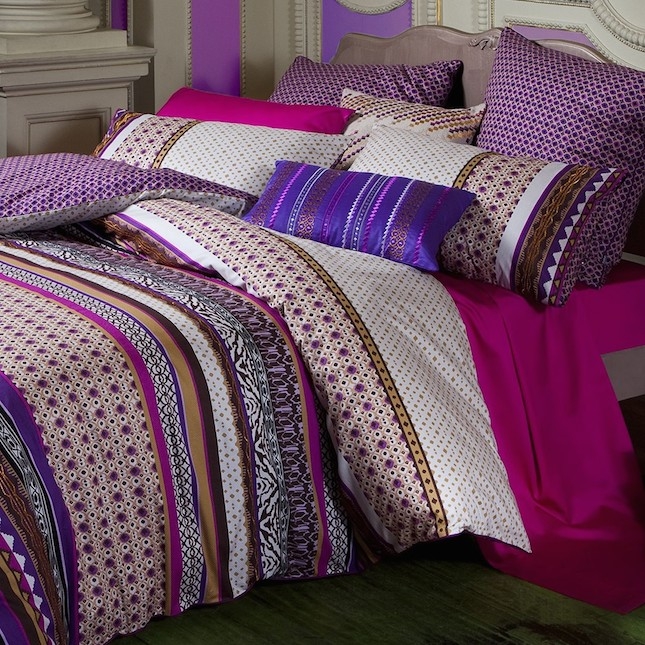 Racquel Duvet Cover Set
This duvet cover set has a design inspired by the vibes of the 60's, with sketched embroidery on a cotton fabric. The different colorful patterns will add a beautiful touch to her new bedroom.
Available, here.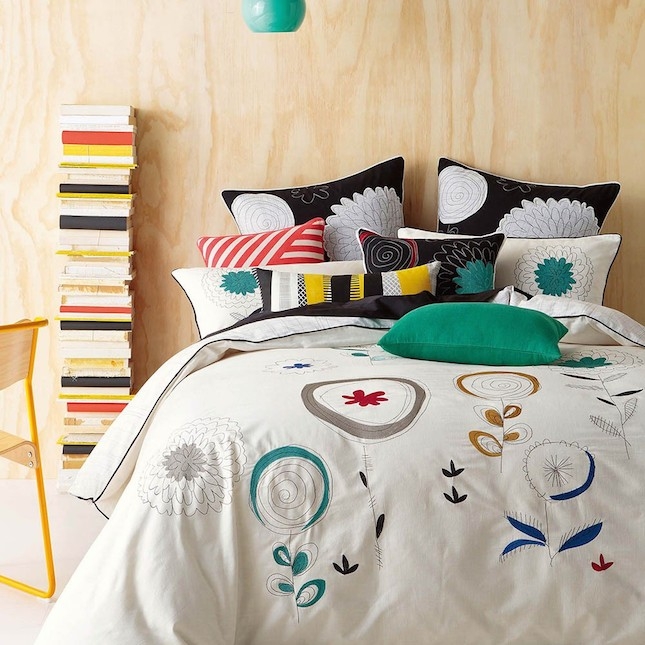 Vintage Plaid Bedding
Classic and chic at the same time, plaid is one of the most common patterns to grace bedding.  This reversible comforter set by Tommy Hilfiger gives you a preppy red, white, and blue plaid print on one side, and a classic stripe print on the other.
Available, here.

---

---

---