The holidays are fast approaching and it's time to get your holiday decor up. Buying new decor is fun and exciting but it can be a lot of work to pull together a cohesive look. Do you know your holiday style? 
Your holiday pieces should fit with your everyday decor style which is why it's important to find a style that feels true to you. In this piece we will be diving into five different holiday decor styles to help you find the one that works best for you.
---
1) Rustic - This holiday style is a mix of warm cozy winter cabin and simplistic traditional Christmas. You will find a lot of natural elements like wood, jute and metal. Colours are usually a little more muted but the classics like red and green are still in play. Animals are very much at play in the rustic style focusing mostly on woodland creatures like deer. This look feels really warm and cozy.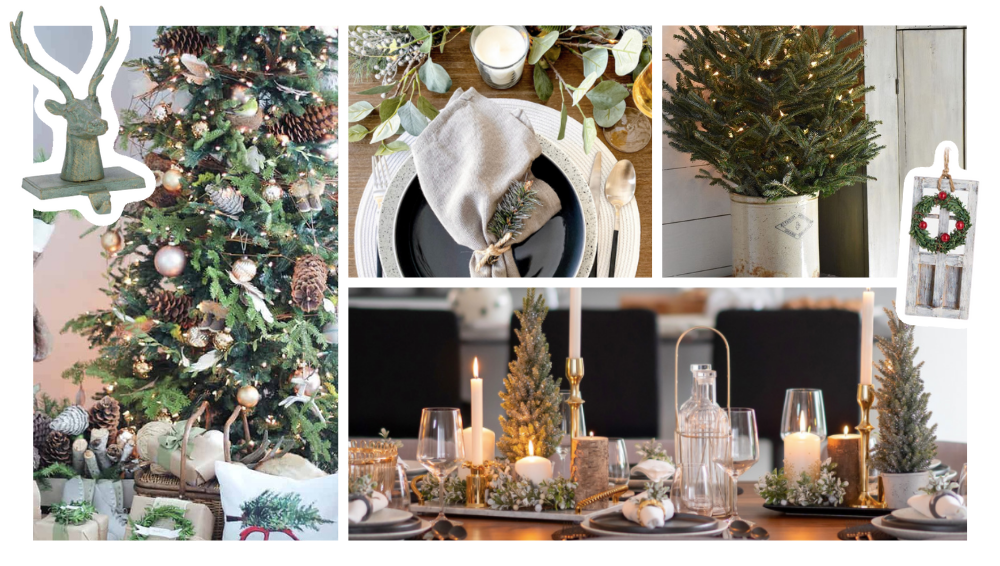 Some great rustic holiday pieces include: Deer Christmas Stocking Hook | Sled Ornament | Door with Wreath Ornament | White Reindeer Christmas Decoration | 3D Decor Tree with Silver Glitter | Ski Ornament 
---
2) Glam - If you love sparkle, shine and glitter this is the holiday style for you. Glam incorporates lots of metallic shiny elements as well as fur and pops of colour. This style looks amazing with a white tree and mixed metallic ornaments. When you're looking for colours consider bright white to bring out the sparkle, and pink is a gorgeous accent colour for this look.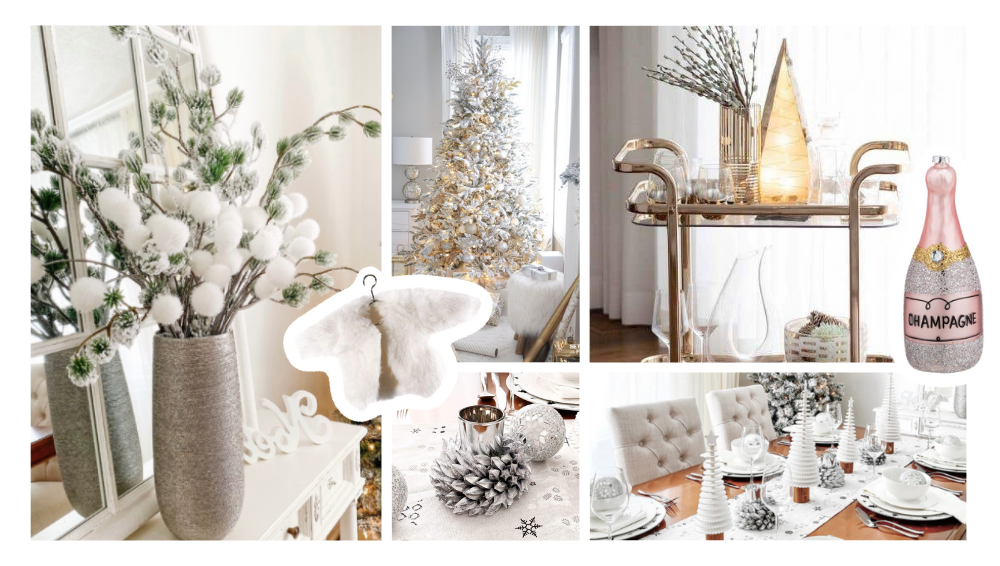 Some gorgeous glam holiday pieces include: Glitter Chestnut Pods | Champagne Bottle Ornament | Metallic Pod Votive Holder | Silver Mosaic Christmas Ball | Faux Fur Coat Ornament | Glitter Spray with Leaves | Faux Fur Ball Ornament 
---
3) Boho - Light, fun and inviting the boho holiday look has a more modern one that leans into a more minimalistic style. White, natural wood, and whimsical characters are often seen in the boho style. The boho look often pulls small elements from nature and it mixes well with Scandanavian styles of decor as well.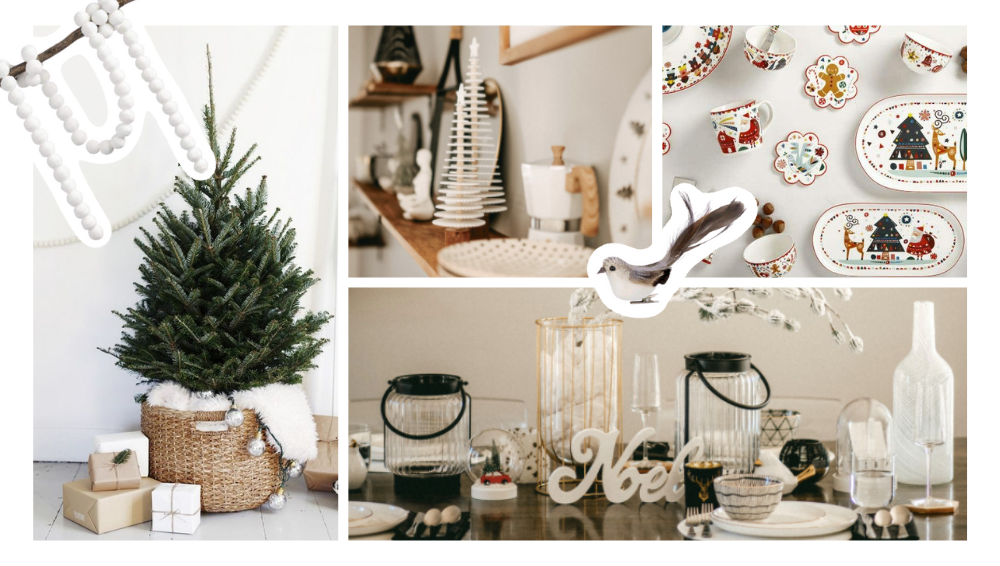 Some fun festive boho holiday pieces include: Decorative Tree | Festive Friends Dinnerware Collection | Mini Snowball Garland | Bird Clip Ornament | White Snowflake Tree Ornament | Winter Errands Mug
---
4) Cheeky - When you think of modern Christmas you might be thinking of a "cheeky" style. Elements we are familiar with like Santa, reindeer, snowmen and elves are often present in this style. The colours are more bold and bright and common themes include candy, pets dressed as Santa, funny elves and quirky sayings.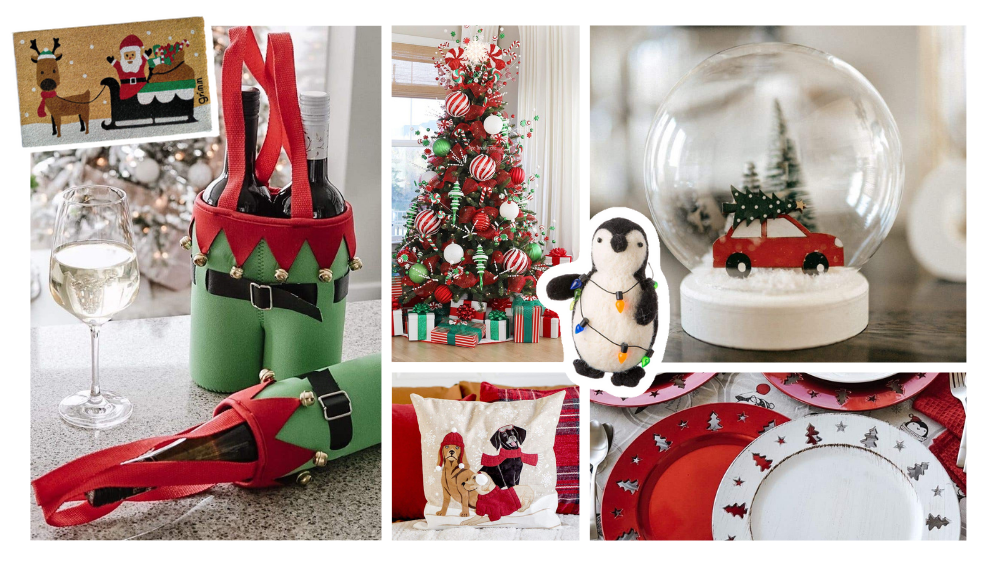 Some adorable cheeky holiday pieces include: Santa with Reindeer and Sled Doormat | LED Snow Globe Decor | Penguin with Lights Ornament | Red Plate with Trees | Elf Bottle Carrier | Dog Snow Cushion
---
5) Traditional - While traditional means different things for different people, this style is really about nostalgia and classic elements. The colours tend to lean darker and more rich while the portrayals of the season are more vintage. Traditional holiday decor relies heavily on the colours and patterns of wintertime foliage.

Some traditional holiday pieces include: Toy's Fantasy Mug - Santa and Animals | Sleigh Doormat | Winter Bakery Delight Cake Plate | Trees Velvet Cushion | Toy's Fantasy Square Bowel - Santa and Animals | Toy's Fantasy Cake Plate - Santa with Sleigh
---
As you can see, some of these styles have some crossover and similar elements. Holiday decor should feel warm and inviting while bringing the feeling of holiday magic into your home. Mix and match these styles or create your own unique style with over 200 holiday items from Linen Chest.
---