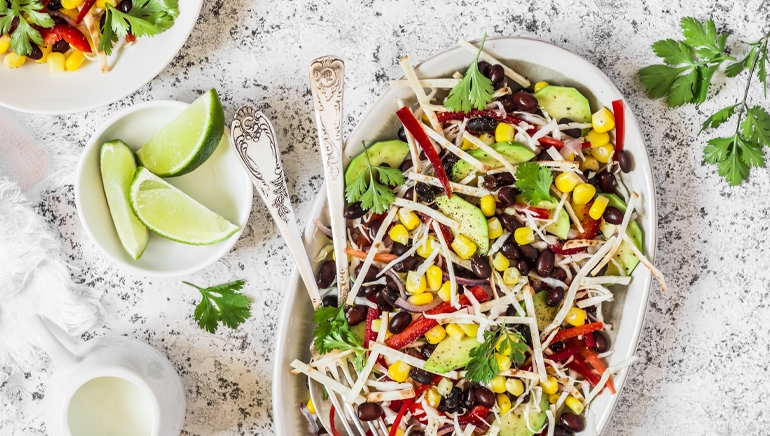 Everyone loves Taco Tuesday! If you're hoping to cut back on carbs or if you simply want to try your hand at salad-as-an-entree, this taco salad recipe is just for you. Though the recipe uses beef, you can substitute your favorite chicken, carnitas, or any other protein you like. Read along to see how you can make a colourful salad into a delicious dinner.
---
Makes: 4 servings
Time: 20 minutes
INGREDIENTS
1 head romaine lettuce

1 pound ground beef

1 package of pre-mixed taco seasoning

1 cup chopped tomatoes

1 ½ cups canned corn

1 ½ cups canned black beans

1 ½ cups shredded cheddar cheese

2 cups broken tortilla chips or croutons

1 avocado

⅓ cup Ranch dressing
---
DIRECTIONS
In a

large skillet

, cook beef over medium heat for 6-8 minutes. Drain the beef then place over heat again, adding taco seasoning and simmering for 5 minutes over low heat.
Chop the romaine into bite-sized strips. Place in a

large serving bowl

. Add the tomatoes. Drain the corn and the beans and add them to the large serving bowl.

Chop the avocado into small cubes. Top salad mixture with beef, chips, cheese, and avocado. Toss in the ⅓ cup ranch dressing and serve.
---