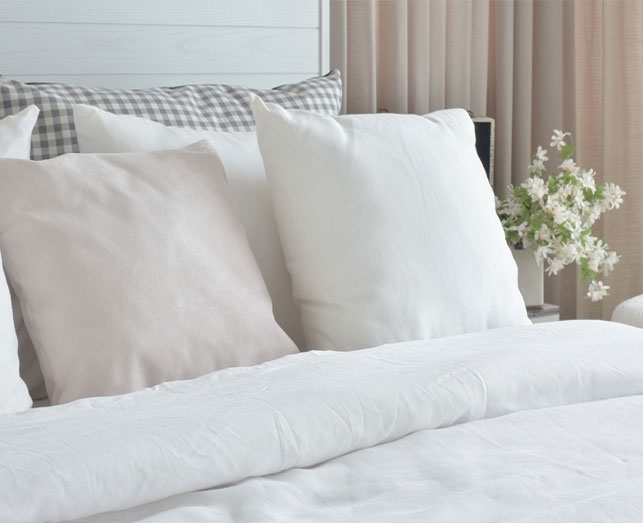 Whether you want to protect your investment on brand new bedding or squeeze every penny out of old items, knowing how to maintain bedding of all types is essential. This prolongs the life of your bedding—from mattresses to duvets to pillows—and keeps them feeling fresh.
Pillows
Pillows should ideally be replaced every year or two—every 18 months is a good timeframe—but that doesn't mean you shouldn't maintain them for an everlasting life. First, invest in a good pillow cover that protects your pillow from mould, dust mites and other allergens.
Second, wash it about twice a year. When you dry the pillow, throw in a handful of tennis balls. They'll automatically fluff your pillows as thy dry, keeping them nice throughout the year.
Duvets
One of the best things you can do to prolong your duvet's life is buy a duvet cover. Not only will a cover protect your duvet from dust, dead skin and sweat—it will also bring your bed to life with decorative patterns that you can switch out with the changing seasons.
You should also wash your duvet and cover about every month or so. When you do, avoid using fabric softener, which makes it more difficult to fluff (and therefore makes it less comfy, too).
Mattresses
It's important that you rotate and flip your mattress at least twice a year to keep it from sagging under your body's weight over time. Be aware, though, that not all mattresses can be flipped—check its tag to see if no flipping is necessary. Even if you don't flip your mattress, you should rotate it on a regular basis.
A mattress topper is also great for maintaining a long life for your mattress. In addition to providing extra comfort, it will protect your mattress from sweat, dust and other debris. Wash your mattress cover ever few months to ensure that it lasts long as well.
---