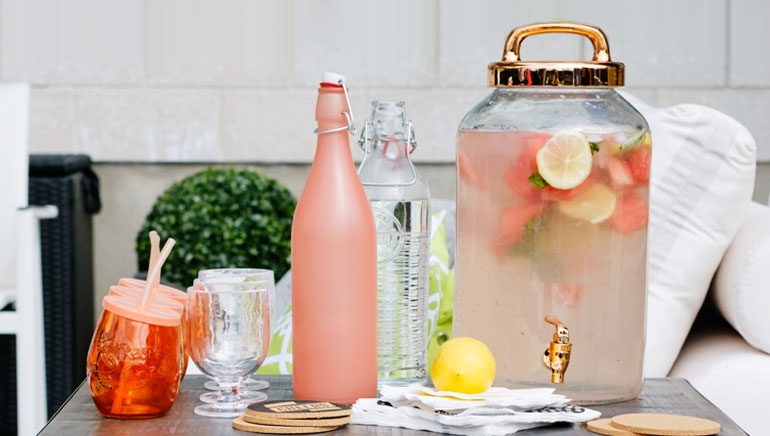 Making a lemonade stand is fun for the young or the young at heart. Whether you're setting up shop with your kids or looking for a fun way to serve up drinks at your next party (spiked lemonade, anyone?), setting up a cute lemonade stand should be simple and stress-free. Here's how you can cool off in the waning summer season with a stand of your own.
---
Set the Table
Obviously, you'll need to start with a surface to serve the lemonade on. While a table is an obvious choice, feel free to make things more fun by thinking outside the box. For example, an old chest of drawers can make for an interesting, unique and rustic alternative. Or go with one of these side tables/bar carts.
Once you've chosen your surface, it's time to dress it up with a table linen! Hemstitch Heritage table linens have a beautiful, pure-white look that compliments the season very well. If you're looking for something more high-energy and colourful, though, you might try a linen from the Swiss Dot collection. If you want something simpler, try a stripe table runner instead of a full table linen. Finally, set up a black board easel to advertise your lemonade and prices!
---
Glassware and Tools
Of course, to serve lemonade you'll need a pitcher and glasses. If your stand is for selling lemonade to passers-by (and not for a party), you'll want to have disposable cups on-hand that people can take with them. But it doesn't hurt to have glassware if the stand is for an event. (these gold pineapple glasses are simply fabulous!)
Several glassware collections include pitchers, making them great for your lemonade stand. Two smart choices include the embossed jug and glassware set and the Prestige 7-piece drink set. If you need just a pitcher, try our Maxwell & Williams Beverage Dispenser for easy serving or a frosted glass carafe to make a bold visual statement.
Don't forget to mix form and function with a couple other accessories. For example, set aside a fruit basket filled with lemons to demonstrate your beverage's freshness. A tall glass vase filled with straws makes for another cute decorative accent for the stand.
And that's it—you're now ready to serve up a delicious glass of lemonade. Cheers!
---