We can't help but get a little excited about all the fresh fruit that becomes available this time of year. From fresh watermelon slices to sweet strawberries, we can't get enough, so we decided to round up a few of our favorite kitchen gadgets that will make preparing your favorite fruits a breeze. From slicing to coring and juicing to zesting, Linen Chest has you covered with everything you need to enjoy your favorite fruits all summer long.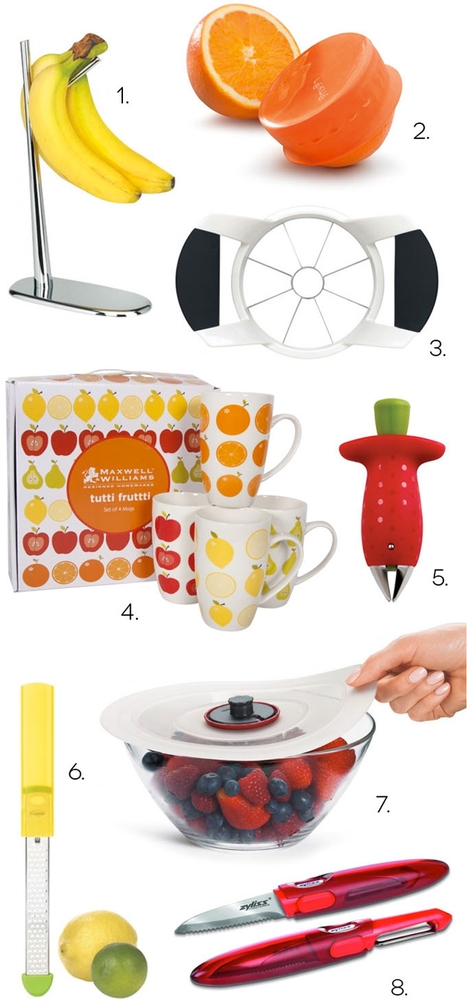 1. Alessi Banana Holder
We love this beautiful contemporary branch for hanging bananas! It provides the ideal method for keeping bananas fresh and edible for longer by keeping them out of contact with the ripening gasses of other fruits. The rubber-covered base, together with the object's weight, guarantees stability on every surface.
Available, here.
2. Lekue Luki Stretch Top Lid
This stretch top creates a vacuum seal that allows you to preserve food in the refrigerator easily and hygienically, preventing contamination and prolonging freshness. It's especially useful for preserving fruit and vegetable halves and also comes in a larger size for leftovers.
Available, here.
3. OXO Apple Wedger
This tool cuts up apples or any other fruit quickly and efficiently! It features raised handles that ensure your hands do not hit the table during use. The precision blades push fluidly through fruit, with minimal effort on your part. A real timesaver!
Available, here.
4. Tutti Frutti Mug Set
How adorable are these mugs? Add a touch of fresh fruit to your kitchen with these porcelain mugs by Maxwell & Williams. This set of four would make a great gift idea as well.
Available, here. (Psst! They're on sale!)
5. Strawberry Huller
Adorable and simple to use, the Stem Gem™ strawberry-stem remover will appeal to both children and kitchen-gadget fiends alike. Simply open the claw, insert, twist, and pull out the stem! This is definitely one of our favourites.
Available, here.
6. Trudeau Ultra Fine Zester
Compact and effective, the Trudeau Ultra Fine Zester is a stainless steel, top quality grater. Its ultra fine grating surface and optimal cutting angle combine to make quick work of citrus, cheeses and other foods that require grating. Not only is this product capable of handling your zesting and grating needs, it's also a safe product. The sliding protective handle covers the grating surface for safe storing.
Available, here.
7. Cuisipro Sealing Lid
This lid prolongs the life of your food by creating a vacuum seal on any bowl or pan (plastic, ceramic, glasses, and metal). It also has an adjustable dial feature to indicate when the food was stored. Oh, and did we mention it's super easy to store?
Available, here. (Psst! It's on sale!)
8. Soft Fruit Peeler & Knife
Two of the most used tools in the kitchen arsenal are the peeler and paring knife. Zyliss brings the two together in ONE functional tool. On one end is an efficient serrated paring knife, and on the other, a serrated blade soft fruit peeler. A real 2-in 1! The versatile handle is also a blade cover which fits either end and shields the tool not in use.
Available, here.
Which gadget was your favourite of the bunch? Let us know in the comments below :)
---