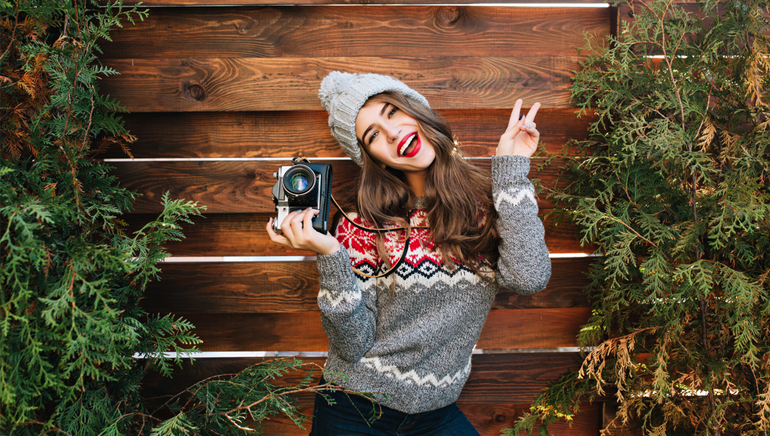 It's almost the most wonderful time of the year, so don't let it slip by—make the most of the holiday season by getting into the spirit of it! If you're feeling a little Grinchy or are a bit of a Scrooge, we've got some ideas on how you can warm your heart and soul this holiday season. Gather 'round the hearth with some loved ones and get the party started!
---
1) Get Cozy
There's perhaps no better way to get in the holiday spirit than to cozy up with your loved ones--but cozying yourself is fine, too! Wrap yourself in blankets and light an aromatic candle or even Christmas lights to create a cozy, warm atmosphere. If you have a fireplace, light it! Shop our blankets collection for a good one to snuggle up with.
---
2) Bake Cookies
This activity is two-fold: it's a fun way to make a warm, delicious treat, and it makes your home smell fantastic! Whether you want to make cookies yourself or have the whole family join in, holiday-themed cookies will get you in the spirit. And if there are any leftover, you can leave them out for Santa. Shop for cookies.
---
3) Play Some Games
Celebrating the holidays means spending time with family, but it can be difficult to get everyone together. Plan some downtime with a family game night, and turn it into an event with some snacks.
---
4) Get a Soundtrack
What's the holiday season without music? It's time to break out the holiday classics from your childhood! If that's not enough for you, consider organizing a night of carolling in your community.
---
5) Watch the Classics
Just as the season has its own music, there's plenty of holiday-themed movies to enjoy as well. Whether you enjoy something contemporary or the classics your parents grew up on, set up a movie marathon night or two with the fam and embrace all the cheer and cheesiness.
---
6) Deck the Halls
Boughs of holly, mantelpiece tableaus and seasonal tchotchkes abound! With every new season comes a new opportunity to decorate, so set the scene appropriately. By decorating the tree or setting up the menorah, you'll instantly feel like you've begun the season--the celebration has begun! Need some inspiration? Check out our collection of holiday-inspired furnishings and trinkets!
---
7) Decorate the Yard (or tour the neighbourhood)
The holidays are as much about what goes on outside the home than in. Turn your yard into a winter wonderland with lights, a nativity scene, or what have you--get creative! You can also wander the neighbourhood to appreciate others' displays, which makes for a great family activity as well.
---
8) Make Some Gift Baskets
Creating a small basket of goodies is a great way to incorporate a variety of products that can be used around the house during the holidays or year round. Check out our Holiday Gift Shop to help you get started! 
---
9) Read
Now that your home is cozy and decorated for the holiday season, snuggle up with a good book! There are lots of great holiday stories to enjoy and if you have kids, get sentimental by sharing with them some of your favorite childhood books.
---
10) Volunteer
Help out at a soup kitchen. Organize a food or gift drive for families in need. Pay it forward the next time you grab a coffee or dine out. The spirit of the season is about giving, so take some time to remember those who have less and see how you can help them, and encourage your family and friends to take part. Those you help will be glad--and you'll feel good about it, too!
---