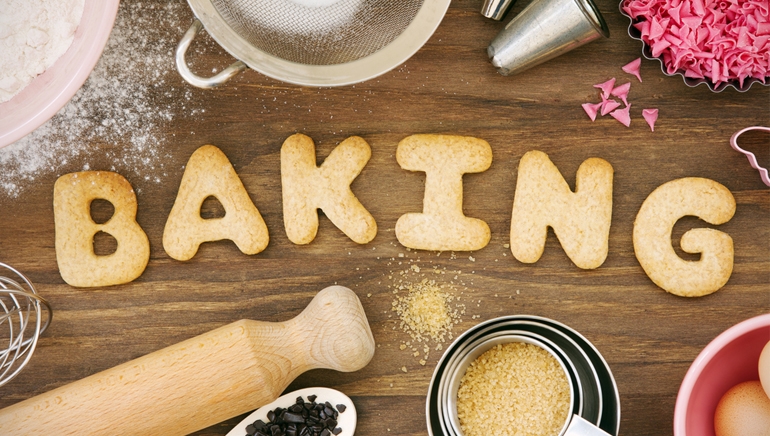 If you spend most of your time on Pinterest boards looking at delicious cupcakes, cookies, cakes, and anything that is edible with a kick of sugar, chances are, you've thought about baking a thing or two. With some essential bakeware you'll be able to put your Internet time to great use and perhaps you'll be the talk of the next party for an awesome dessert! There are so many bakeware items to choose from that it can be overwhelming... SO we've selected a small assortment to get you started on your road to becoming a baked goods master!
---
1) Silicone is Simple
You'll forget the days struggling with baked goods in tin containers once you start using silicone products. When you bake something like cupcakes or cakes in silicone, you are able to pop it right out of its holder. At last, you won't look like the serial cupcake killer with a long trail of crumbs adorning your kitchen.
*Don't forget a pair of silicone oven mitts— burns are not the fun part of baking!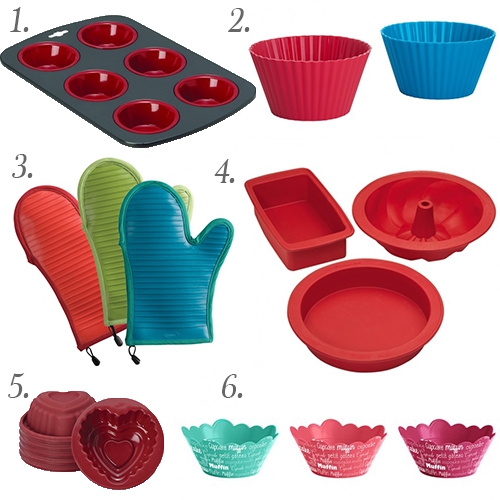 SHOP THE ITEMS:
1. Metal & Silicone Cupcake Pan, 2. Silicone X-Large Muffin Molds, 3. Trudeau Stay Cool Oven Mitt, 4. 3 Piece Silicone Bakeware Set, 5. Heart Shaped Cake Cups, 6. Silicone Muffin Liners
---
2) Mix It Up
Although recipes vary in the "what you'll need section," you will always need a mixing bowl to start off with— because where else would the ingredients go? Mixing bowls can come in a variety of sizes and it's always a great idea to get an assortment just in case your recipe requires a couple different ones. And hey, the fun colours are an added bonus!


SHOP THE ITEMS:
1. Fox Run Stainless Steel Mixing Bowls, 2. Trudeau Set of 3 Mixing Bowls, 3. Trudeau 4L Mixing Bowl Lime Green , 4. Set of 6 Mixing Bowls, 5. Trudeau La Patisserie Set of 3 Mixing Bowls
---
3) Blend, Scrape, and Repeat!
Baking in this day and age has never been easier thanks to handy kitchen gadgets that cut out a lot of the labour of mixing and blending. Unless you have a satisfaction with blending and stirring the old-fashioned way, you may want to grab a hand blender (or the ultimate KitchenAid footed mixer) and make the process of baking a bit faster. But don't forget some of the simpler hand tools like a whisk, spatula, and a rolling pin, because you'll still need them from time to time!

SHOP THE ITEMS:
1. Cuisinart Hand-Mixer Five Speed Blender, 2. Trudeau La Patisserie Spatula Spoon, 3. Trudeau La Patisserie Cookie Spatula, 4. Zwilling J.A. Henckles Twin Pure Large Whisk, 5. Zwilling J.A. Henckles Twin Cuisine Large Whisk, 6. Danesco Rolling Pin in Danish Hardwood
---
4) Measuring Up
And of course, if you want to make sure your baking turns out well, you'll want some measuring cups and measuring spoons. With the right measurements, you'll know you're not overdoing too much of one ingredient. Trust us—no one wants too-sugary-sugar cookies!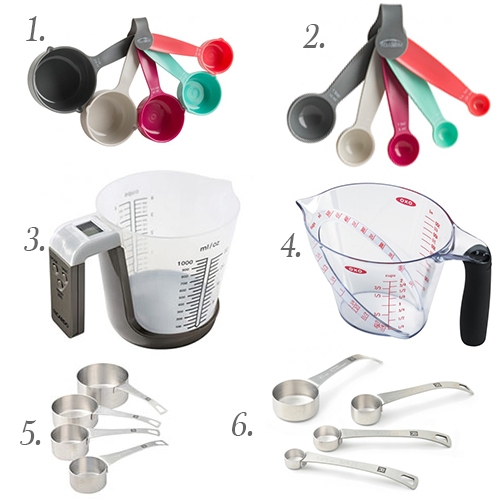 SHOP THE ITEMS:
1. Trudeau La Patisserie Set of 5 Measuring Cups, 2. Trudeau La Patisserie Set of 5 Measuring Spoons, 3. Ricardo Measuring Cup and Scale 2-in-1, 4. OXO Good Grip Angled Measuring Cup, 5. Ricardo Set of Four Stainless Steel Measuring Cups, 6. Ricardo Set of Four Stainless Steel Measuring Spoons
---
You Might Also Like:
A BEGINNER'S GUIDE TO BAKING