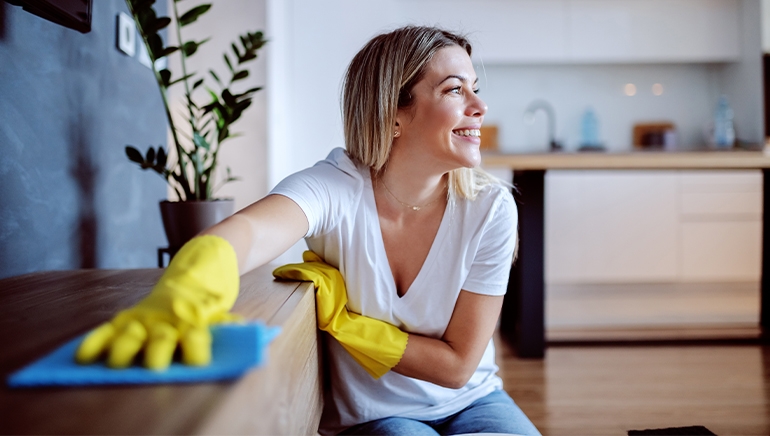 Rubber Gloves -

To really get things clean you're doing to need to get down and dirty. Make sure you have some rubber gloves to keep your hands from drying out and also to protect you from any chemicals in your cleaners.




---

Reusable Rags - Save old dishtowels or purchase inexpensive ones to act as reusable rags. These are perfect for wiping down things like baseboards, doors, and anywhere else that gets particularly grimy. Keep rags separate from regular cleaning cloths.


---

Reusable Cleaning Cloths -

Besides your reusable rags, make sure you have reusable cleaning cloths for things like counters,

windows and glass

, and

stainless steel appliances

. This will help you waste less and get your surfaces squeaky clean.


---

Cleaning Sprays - For a proper spring cleaning, you're going to need an arsenal of cleaning sprays. Make sure you have a spray for your counters that is food safe as well as a harsher one to cut grease and grime.


---

Kitchen and Bathroom Cleaners - In addition to your cleaning sprays you will need an oven cleaner as well as something to clean your dishwasher and garbage disposal. Don't forget to add toilet bowl cleaner and a tub and tile cleaner to the list. You may also need something to clean the drain that's clogged with hair. (LC Tip: Try this hair catcher to keep your shower clog-free!)


---

Garbage Bags - Make sure you have plenty of trash bags and recycling bins around. This is useful for throwing out expired, broken, or damaged items as well as properly disposing of cleaning materials that are not reusable.


---

Boxes or Totes -

Gather some boxes, plastic totes, or

reusable bags

for any items you plan to donate, give away or sell. Putting them into bags rather than just piles will help keep you organized and it will help you move them when the time comes.


---

Vacuum - Once you've wiped all the surfaces and gotten rid of any excess junk you will want to vacuum. Make sure to get into spaces you don't usually get to like under the couch, behind the bed, and around any large furniture. Save time and get the vacuuming done while you do other things with an

iRobot

!


---

Mop -

It's important to take a mop to any hardwood or tile surfaces. Make sure to get in all the corners and around all appliances for a deep clean. Use an

iRobot mop

for a little extra help.


---

UV Sterilizer -

Keep things clean and disinfect any questionable items you find with a

UV serializer box

or wand. It will give you that extra peace of mind for things that may have rolled under the couch a few months ago.


---

Laundry Essentials -

You'll probably have heaps of laundry along the way and even more when you're done so make sure you have all your laundry essentials including stain remover,

dryer balls

,

fabric shaver

, and

an iron

.


---

Organizational Bins -

You've done all the hard work of cleaning and you want to keep it organized. Be sure to utilize

organizational bins and containers

to keep everything in tip-top shape.


---

Room Spray -

Leave your home feeling (and smelling) fresh, bright and clean. Give each room a little spritz of

room spray

when you're done for the perfect finishing touch. 
Happy Spring Cleaning!

---
---