Make a lasting impression this holiday season with not only giving the best gifts, but making the best wrapping too!  Here are five unique ways to wrap your gifts this Christmas.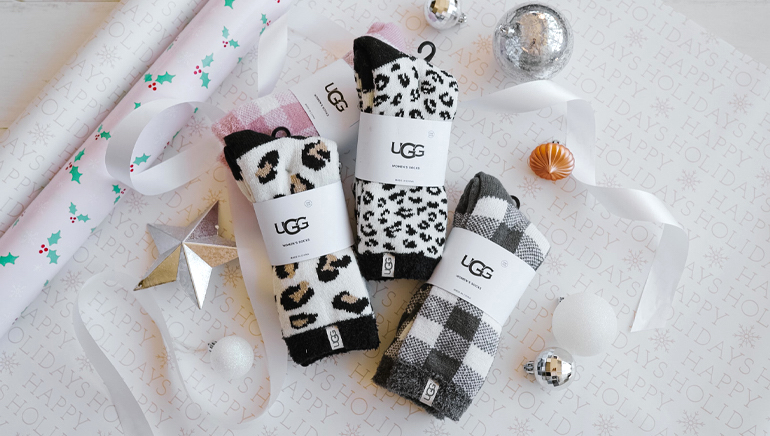 ---
1) Stitched Wrap


To achieve this, cut out Christmas shapes from craft paper. Use contrasting colour embroidery thread to hand stitch around the edges.  You can use a sewing machine to help speed up the process.  This wrapping style is so fun to tear into on Christmas morning!

---
2) Reusable Wrap

This is a fast and easy way to wrap, and not to mention a great way to save our trees!  This technique is best used on square or rectangle shaped presents. Any of our flannel bedding make great gifts for all ages and you can even use the sheets itself for the wrapping paper.
You can also use old clothes, towels or fabric.  Fold or cut your fabric into a huge square and with a few simple folds, you'll achieve a beautifully packaged present.

---
3) Personalize It

Personalized gifts really take your gift-giving up a notch. Your loved ones will appreciate the time you put into creating a one-of-a-kind gift tailored to them.

Instead of using a normal gift basket that they may not have any use for, try using something like a salad bowl or a beautiful serving tray. Think outside of the box!  For someone who loves making salads; take a larger salad bowl, line it with table napkins and put serving spoons, a cheese grater, spice jars and speciality olive oil in it.  Wrap it with cellophane and add an ornament or greenery on top.

---
Watch the video to see how it's done :
---
4) Marker Art Wrap
Craft paper might seem boring, but really the opportunities are endless when you start with a blank canvas! Grab your markers and get creative.  You could create a personalized message, write out their favourite Christmas song/quote or give them hints to what's inside the box. Don't worry about making the hand writing perfect.  Your personality will shine through and make it more authentic and special.

---
5) Candy Wrap


If you are  trying to wrap a gift that has an unusual shape like a cylinder, try turning it into a giant candy. Pick colourful wrapping paper and roll it around the box. Cinch the ends and tie a knot or bow around it to keep it in place. Perfect for all kinds of bottles!

---
We hope these ideas get you inspired to make wrapping fun this season! Discover more holiday decor, gift and recipe ideas on LCliving.ca.