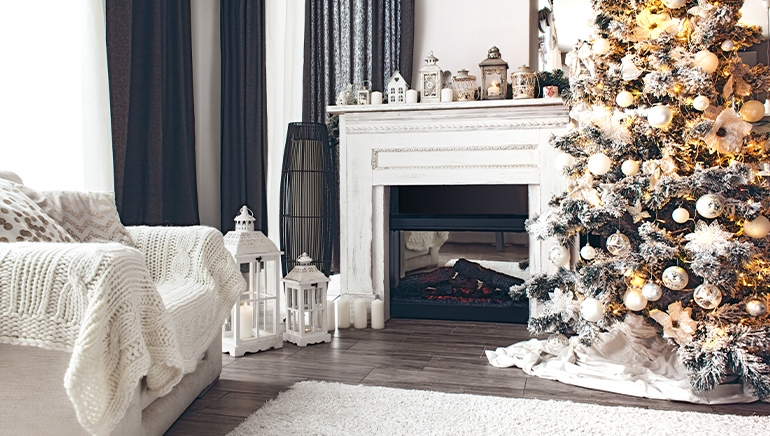 While it's always special to start a collection of stunning ornaments with your family to be passed down, putting them all together on one tree can be a bit visually overwhelming. To create a cohesive look, try sticking to a theme that leaves your tree looking like it's been styled by a professional. You can even divide your current ornament collection to create different themes if you place more than one tree in or around your home to be decorated.
---
1) Candy Cane Lane
Just like the candy it's named after, this theme is all about red and white. Bright red makes a wonderful signature pop when you're planning out holiday decor. And, the white is always a classic that goes with any year-round home decor elements; it can also represent plush, winter snow.
To start, use white lights at your tree's base. Then, forgo traditional garland options by tucking thick red ribbon between the branches; start at the top of them weave it in and out until you reach the bottom, creating volume as you do so. Repeat this around the tree from top to bottom, and leave room for ornaments.
Use plenty of red and white base ornaments, and feel free to use gold and silver ornaments, as the metallics can act as a neutral that reflects the sparkle of the season. Add texture to the colour scheme by selecting ornaments made of various materials, such as glass, felt, bottlebrush, and wood.

---
2) A White Christmas
Nothing is quite as magical as the still calmness of fresh, untouched snow on the ground during the holiday season. Bring this tranquil sparkle into your home by having this theme reflected on your tree; plus, it will match your interior design no matter what.
Start with lights, and white pom pom or beaded garland to give a fun snowball effect. Then, finish off the base of the tree by tucking some dried baby's breath between the branches; this will make your tree look fuller and fairy-like.
For the ornaments, stick to a neutral base of white, silver, and gold. And, don't be afraid of fur or glitter textures to create snow-like effects.

---
3) A Coastal Christmas
If you're a beach lover, then you might not enjoy the typical holiday colour palette as much as others -- and that's just fine! Bring the beach inside this holiday season to put a smile on your face and bring back the peaceful beachy vibes you love.
Once again, white lights are an excellent base for this type of tree, but the garland will provide a fun twist. Look for shell garland, or make some yourself either with shells you've collected or purchased.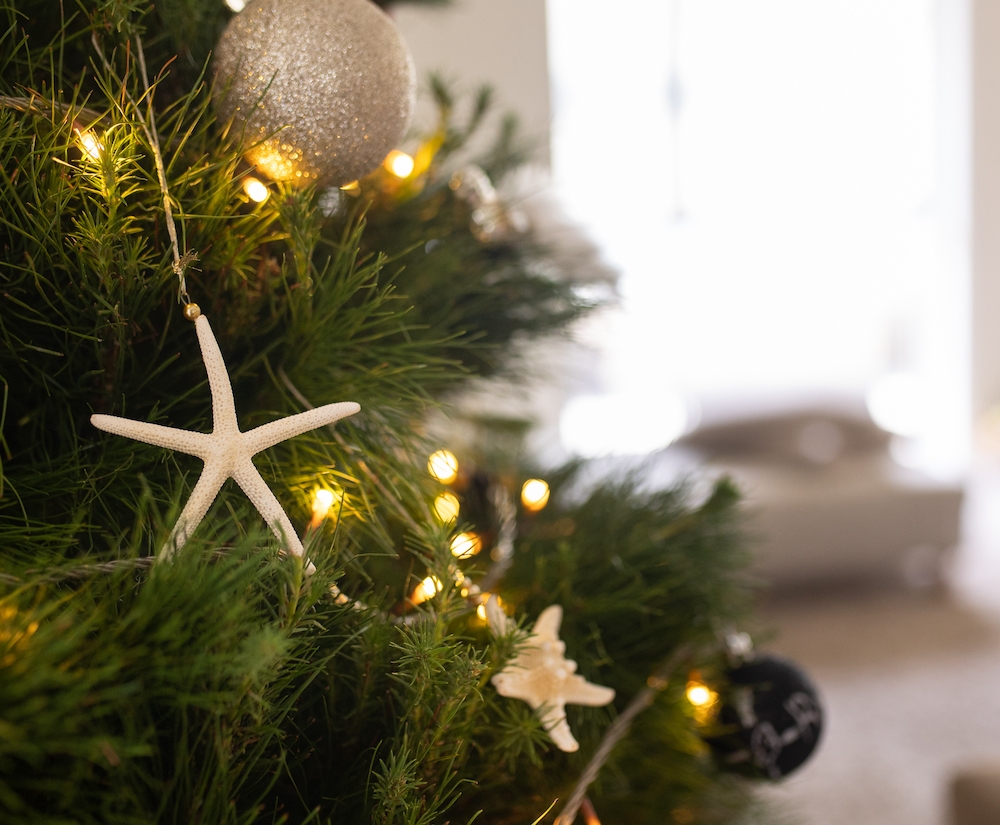 ---
Themed trees are a wonderful way to get creative when you're decorating various trees. And, they're ideal if you want to have a tree match a room's aesthetic that you worked so hard to achieve throughout the year. Whichever you choose, get creative and get the family involved for some holiday fun.