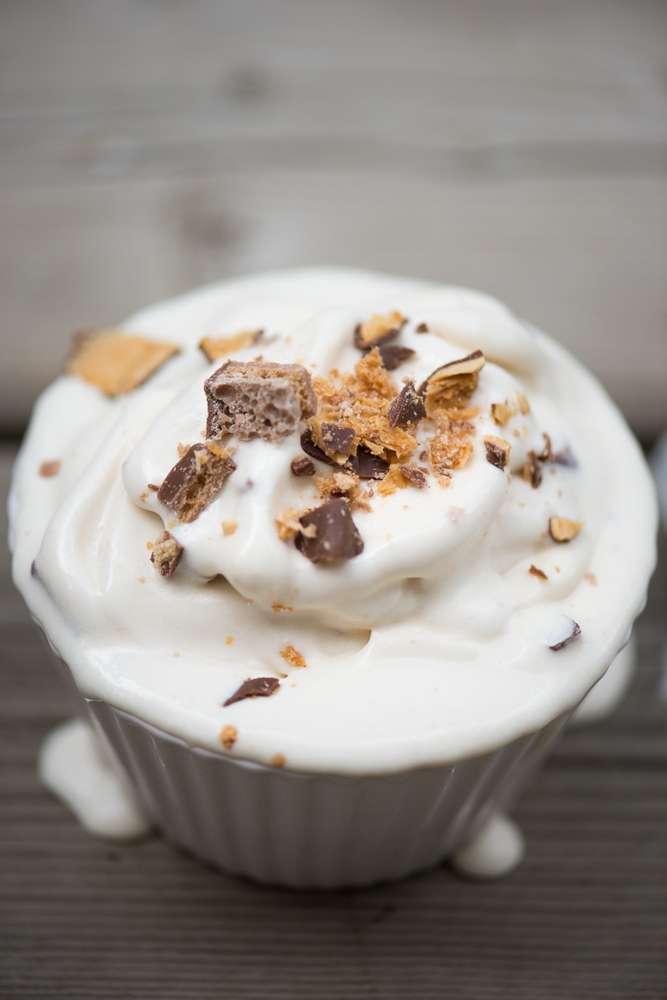 With the warm weather, it's great having ice cream on hand to cool down those hot afternoons. We used our KitchenAid Ice Cream Maker Attachment for our stand mixer. It can make up to 2 quarts of fresh ice cream, sorbet and other frozen desserts... Yum!
This time we went with a classic vanilla ice-cream, but instead of using white sugar, we used honey (your welcome to substitute it with the white sugar). We wanted to kick it up a notch so we grabbed some of our favourite chocolate bars and added them to the mixture. Here's how to make it:
Chocolate Bar Ice Cream
(Makes about 1 quart.)
Ingredients
2/3 cup Honey
2 large eggs
1/4 tsp salt
1 2/3 cup milk
1 cup heavy cream
2 tsp vanilla extract
4 chocolate bars, roughly chopped
Directions
1. Bring the milk to a simmer in a heavy saucepan. Meanwhile in a mixing bowl whisk together honey and eggs until pale. Mix in salt.
2. Slowly whisk the hot milk into egg mixture. Pour the entire mixture back into saucepan and place over low-medium heat. With a wooden spoon, continue to stir until mixture thickens and coats the back of the spoon. About 15 minutes.
3. Remove from heat and pour through a sieve into a clean bowl. Allow custard to cool sightly and mix in cream and vanilla. Cover and refrigerate until cold or overnight.
4. Freeze in your ice cream machine according to the manufacturer's instructions
5. When your ice cream is almost frozen, mix in chocolate bar pieces.
Enjoy!