Brunch can easily be the best meal of the week. After a long sleep-in what could be better than pancakes and swapping your to-go cup for a chic cottage style mug? It's as perfectly cozy as it looks. Indulging also doesn't have to wait for the weekend. With simply substitutions pancakes can be healthier for you than you dreamed. Enjoy this recipe and have your own cozy brunch.
---
Ingredients
1 cup whole wheat flour
1/4 tsp salt
1 1/2 tsp baking powder
1 tbsp melted coconut oil
1/2 cup unsweetened almond milk
1 egg
1/2 tsp vanilla
1 1/4 cups natural unsweetened applesauce

Directions
1. Sift the flour, salt and baking powder.
2. Whisk the coconut oil, almond milk, egg and vanilla.
3. Mix the wet ingredients with the dry and once integrated add the applesauce.
4. Grease a pan with coconut oil and cook for about 2 minutes per side over medium heat or until you get a nice colour.
---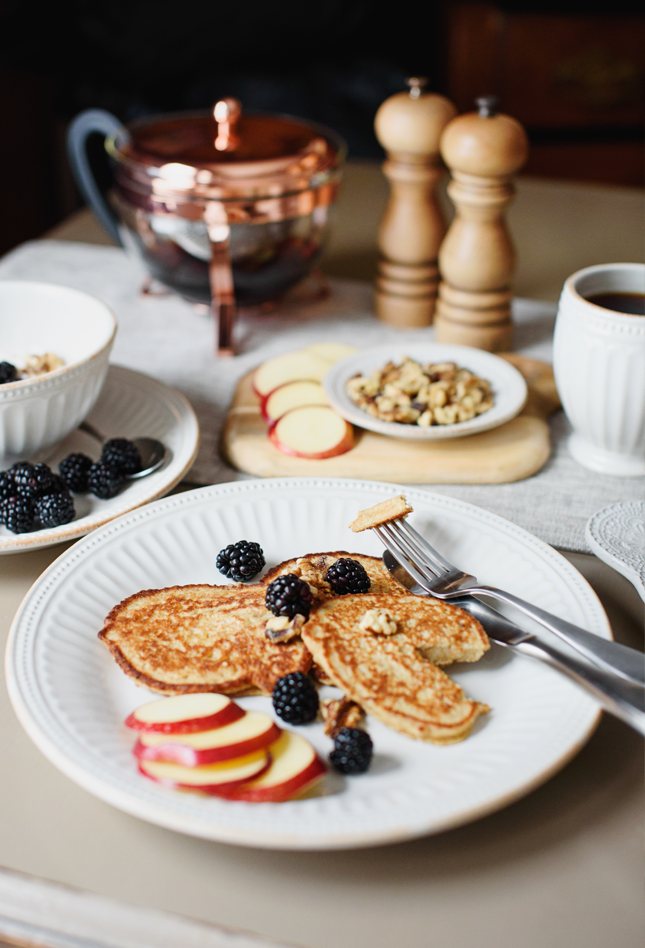 ---
SHOP THE ITEMS: