Once the last bit of snow melts you know (or at least hope), that spring will surely show her lovely face. Besides spring cleaning, here are five fun and impactful projects to work on to freshen up your home and shake out the winter blahs.
---
1) Welcome Spring with an Inviting Front Entrance
Your front entrance is visible to all and is a good place as any to start. After sweeping the steps and applying a fresh coat of paint (if needed) to window sills and doors, try creating a cozy sitting nook.
Start by adding a small bistro table with two chairs and a curtain (to provide privacy and protection from the sun). Lastly, don't forget to add finishing touches such as some cushions and a cozy throw.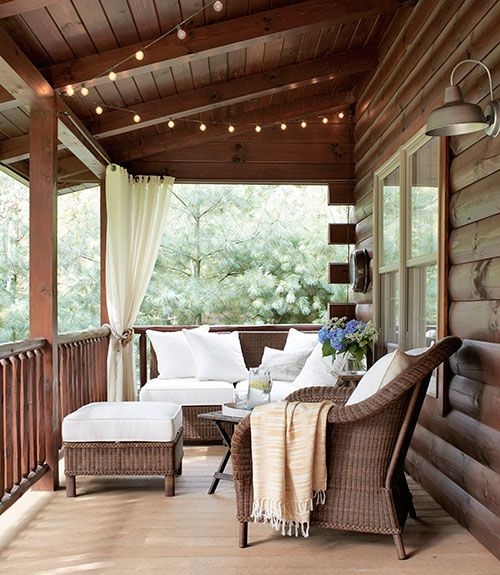 via
---
2) Inject Colour into Your Space
A bright pop of colour livens up a space, whether it's a kitchen, a bathroom, or the inside of a closet for those who are a bit colour-shy. Some considerations when selecting your paint colour:
1. Pick a colour that you love. (even if kelly green is trending)
2. Select an accent colour you can pair with the main color to add contrast to the room. This is most easily done with home décor items such as cushions, vases or other decorative accessories.
3. Look at paint chips in natural lighting (by the window) throughout different times of day and under indoor lighting to see if you like the colour.

via
---
3) Fresh Flowers
Nothing says springtime like fresh tulips! Place them in a white feminine vase (like this Kate Spade one) and place them on your nightstand, in your living room on in the kitchen.

---
4) Fragrances
A pleasant-smelling home is welcome year-round. Use fragrance extracts or enjoy the benefits of Lampe Berger. They purify the air and destroy undesirable odours while diffusing a long-lasting fragrance. Shop our full collection. See it in action:
---
5) Fresh Linens
Spring is a great time to organize and restock your linen closet. Treat yourself to luxurious bamboo sheets or try cutting up old towels for uses around the house and make way for brand-new ones. We love this organized closet's use of bins, baskets and boxes. We love these trendy espresso hampers and baskets, they'll last for years to come!

via
---
What are you looking for?