While the bride-to-be is in charge of many aspects of the wedding, there's one item on the to-do list that should go right to the groom: picking out groomsmen gifts! These gifts show you just how much you appreciate all the guys in your wedding party. Consider it a thank you for standing by your side at the ceremony.
---
3 Tips for Picking the Best Groomsmen Gifts
1. Pick something that they'll use. Recipients always appreciate something they can use (and re-use) rather than something that will sit in a drawer.
2. Go for something universal. If you're getting the same thing for each groomsman, make sure that it will be liked by everyone.
3. Stay in your budget. After all, you might have a long list of groomsmen. If you're going for a smaller wedding party, you can spend more on each guy.
Need some inspiration? Check out some of our favourite groomsmen gift ideas: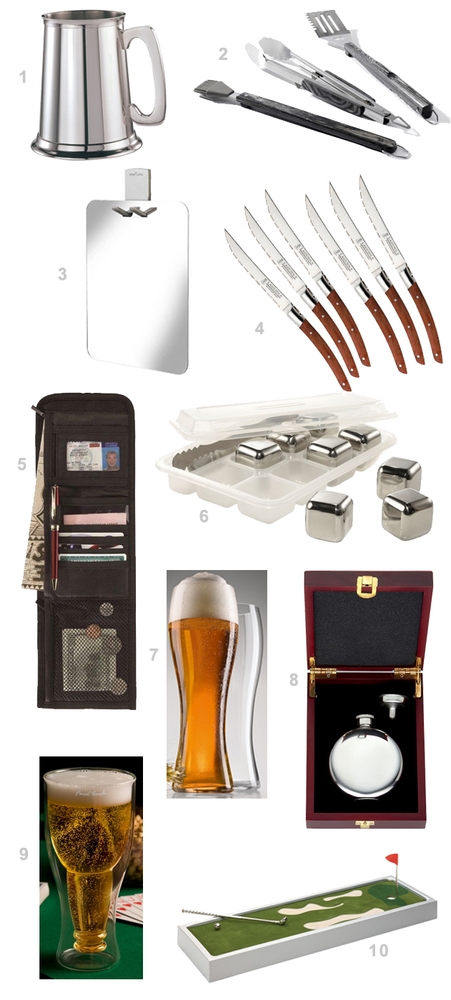 SHOP THE ITEMS:
1. Tankard Beer Stein Pewter - Available, here.
2. Ricardo 3 Piece Grilling Tool Set - Available, here.
3. Viso Frameless Shower Mirror - Available, here.
4. Laguiole Set of 6 Rosewood Steak Knives - Available, here.
5. Travel Wallet - Available, here.
6. Set of 10 Stainless Steel Ice Cubes - Available, here.
7. Spiegelau Pilsner Beer Glass Collection - Available, here.
8. This Round's On Me 2-Piece Round Flask Set - Available, here.
9. Bottoms Up Beer Glass - Available, here.
10. Retro Tabletop Mini Golf - Available, here.
---