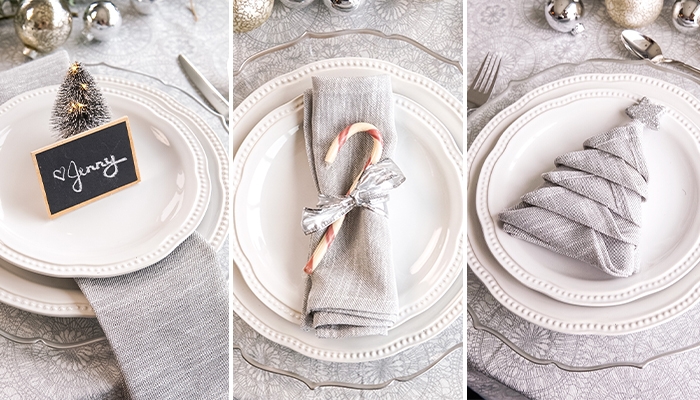 Table decor is often over-looked with all the holiday hustle and bustle, but having an inviting table really sets the tone for your company. An easy trick to instantly transform it into a festive one is to utilize your napkins. Here are for 4 different ways you can fold and style your napkins that will get your guest into the holiday spirit.
---
Christmas Tree Fold

Start by folding your napkin in half once and then twice to make a square shape

Take the ends that are open and start folding back the edges one at a time

making a layered effect

Flip over the napkin to the back and turn upside down

Fold the outside corners to form a diamond shape

Flip back over to front side

Start folding back the flaps to form the tree layers

Tuck each end in the above fold

Add a star at the top (optional)

Place directly on plate either laying down or have it stand up

---
Elegant Fan Fold
For a more formal setting, you can use a napkin ring to achieve this elegant look.
Start by folding the napkin about an inch over and under to make a fan

Fold in the middle

Slide the napkin ring through the folded bottom part

Fluff out the top and place on plate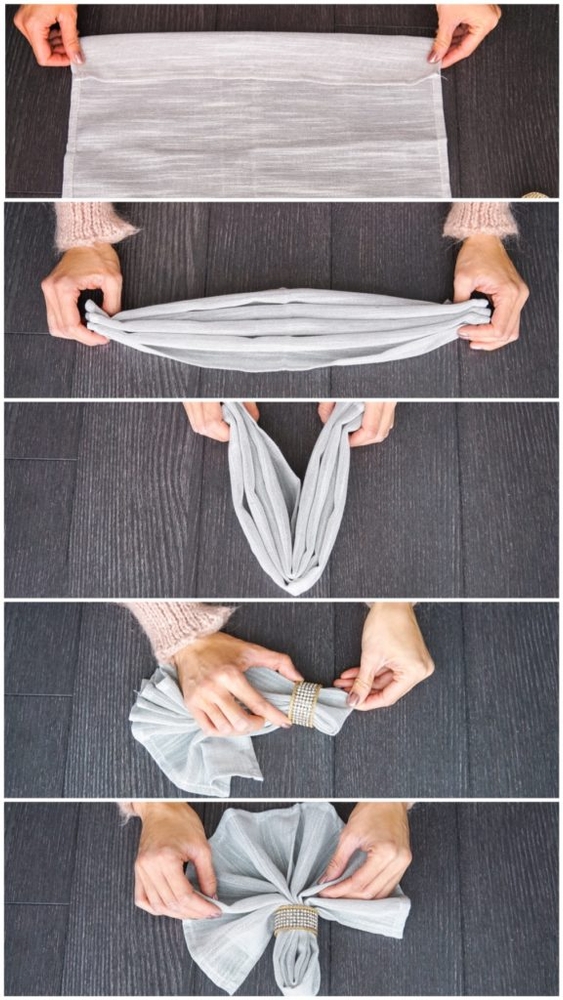 ---
Roll It
Here's a simple and quick way to add some character to your setting.
Fold napkin in half

Start rolling it till you come to the end

Use twine or ribbon (depending on the style and colours of your tablescape) to tie a bow around the rolled napkin

Add a candy cane or garnish with seasonal herbs
---
3 Quarter Fold
If you're hosting a large party, you want the napkin folding to be quick and easy. This three-quarter fold is fast with only two folds and still looks sophisticated. Placing it under the side plate allows for a name card to be displayed and/or whatever party favour you choose for your guest.

---
Hope you found some inspiration to bring to your table this season. Cheers to a wonderful Christmas and beautifully set tables!