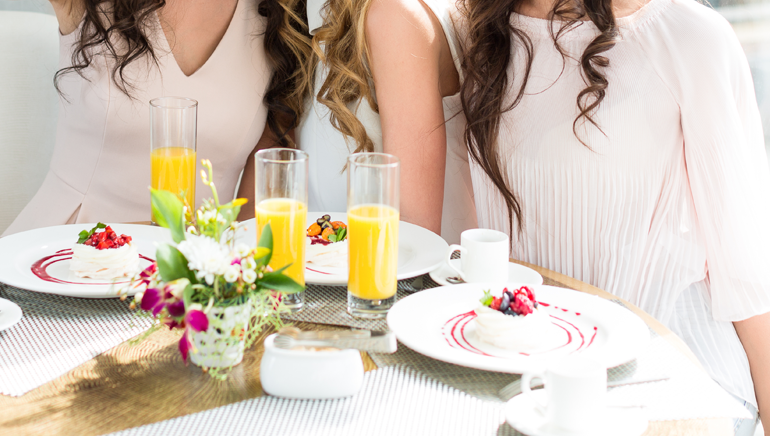 Like it or not, Valentine's Day is right around the corner, and while many anxiously anticipate this holiday in a seemingly dazed state of blissful oblivion; for a good majority of us gals, this romance-fueled day can be one of the most daunting holidays of the year.
So although the combined overt proclamations of love and heart-shaped candy surplus may be enough to inspire a self-induced, 24 hour hibernation stint, we're going to show you how to make the most out of this holiday with our "Single Girl's Guide to Valentine's Day".
Yes, you've read that correct… no matter your relationship status or romantic situation; the ways to celebrate this holiday are positively endless. So grab your girlfriends, rom com collection, a glass of vino (or two), and read on for our fool-proof Valentine's Day party night IN tips!
---
1. Cupid's Cocktails
Because what party would be complete without a cocktail? You're going to need something to toast with! It IS a celebration after all.
Create a signature cocktail for your girlfriends, and give it a cheeky little name that plays into your Single Girls' soiree! We're thinking anything pink or red is perfect for the occasion, and we've included a fun, holiday-appropriate recipe for you below!
Love on the Rocks (Serves Two)

What You'll Need:
Girlfriends Set of Stemless Wine Glasses

– these glasses could not be any more perfect for girls' night in! Flirty, fun, and sassy… the best combo if we do say so ourselves!

Bevelled Edge Marble Coasters

– this will bring a touch of elegance to your cocktail set-up! Not to mention, white marble is so on trend right now!

4 tablespoons of strawberry jam

4 tablespoons of lime juice

2 sprigs of mint

6 strawberries

Club Soda

Ice

White Rum

Limes – to garnish
Directions:
Place the

 

muddled fruit spread, mint & strawberries into a

cocktail shaker

Add the lime juice to the mixer

Fill two separate cups with ice

Add equal amounts of the muddled fruit spread, mint & strawberry into each glass

Add desired amount of rum

Fill the remainder of glass with the club soda

Serve!
---
2. Indulge Yourselves
2016 was the year of the charcuterie board, and it doesn't look like this foodie trend is going anywhere anytime soon! And for good reason… it is the perfect snacking staple for a fun, sophisticated girls' night in!
Besides… no cocktail is complete without a charcuterie board! Here are some of our favourite charcuterie essentials.
Not sure how to put it together? Check out our visual guide >
Cheeky Charcuterie

What You'll Need:
Venti Cheese Serving Board

or

Slater Cheese Serving Set

– both of these cheese sets are super sleek and stylish! Plus we're loving that you can write on them using chalk to identify each of your cheeses or meats! Amazing!

Two Cheeses – we're thinking that brie and blue would be a nice pairing!

Fruits – grapes, apples, or apricots are all great options!

Two Meats – you can NEVER go wrong with prosciutto or salami

Baguette or crackers
Directions
Arrange your meats, fruits and cheeses. Be sure to never overcrowd your platter… the simpler the better! You can always replenish later!

Use a different knife for each cheese

Serve crackers or baguette separately on a different platter.
LC Tip: to make your charcuterie experience extra delicious, slice your baguette, dust with a little olive oil, and pop it in the oven for 1-2 minutes on high broil.
---
3. Rom-Com Essentials
Cocktail, check. Food, check. All that's left is a good ol' fashioned, tear-jerking rom com and you've got yourself a solid soiree with the girls. Not in the mood to watch cheesy, love-struck actors? Not to worry! Sub in a horror or action-flick… our movie essentials are still very much the same!
Turn your coach into a girls' night oasis with some of these foolproof tips.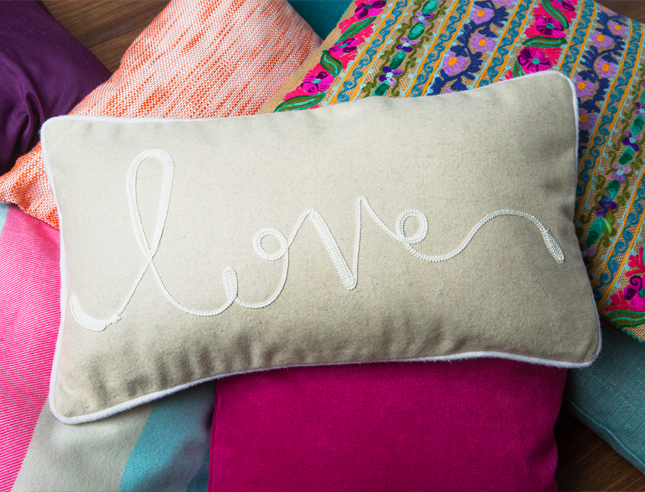 What You'll Need:
Throw Blankets – Throw blankets are a movie night must have! Not only do they enhance your space, decor wise, but they're the most perfect addition to a chilly, winters' night! Depending on the vibe of your space, we're thinking either this

faux fur throw

, or the world's softest blanket. Both are equally stylish and comfortable… yet totally different in the style department!

Embroidered Felt Cushion Collection

– Because you obviously don't need to be in love to celebrate love! Adding a few Valentine's Day appropriate accents here and there can help put everyone in a festive mood without having it feeling super overwhelming! We're thinking that this love embroidered cushion is just the perfect addition to your single girls' soiree!

Blanche Robe

– This robe is unbelievably comfortable, and seriously what's more luxurious than curling up on the couch, cocktail in hand, decked out in a plush robe surrounded by some of your besties?! Nothing? We think so too…
---