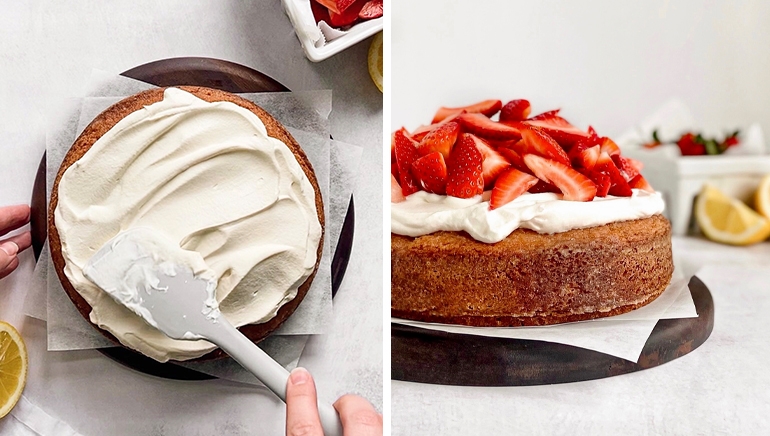 With spring in full bloom, we're dreaming of all of the season's best desserts. Our favourite might just be this lemon & olive oil cake topped with strawberries and cream. A bright, citrus sponge smothered with fresh whipped cream and finished with sweet strawberries – does it get any better? No, it does not! This super easy but show stopping cake will quickly become your new favourite too.
Watch the video to see how it's done + get the recipe below:
---
INGREDIENTS:
Lemon & Olive Oil Cake
¾ cup olive oil
2/3 cup sugar
2 eggs
1 cup flour
½ tsp vanilla
¼ tsp salt
1 ½ tsp baking powder

 

1 ½ tsp lemon zest
1/3 cup milk
Syrup
Juice from ½ lemon
¼ cup sugar

Toppings

Whipped cream (1 cup whipping cream, 2 tbs sugar, ½ tsp vanilla)
Sliced Strawberries
---
ITEMS USED:
Stainless Steel Mixing Bowls, 8'' Springform Pan, Spatula, Square Berry Basket, Round Serving Platter
---
DIRECTIONS:
Preheat oven to 350 degrees and grease/line an

8" springform pan

with cooking spray/parchment.

 

Using a handheld or stand mixer, beat eggs until light and foamy (about 2-3 minutes) and then slowly add in sugar and beat until thick (1-2 minutes).

 

While still mixing, slowly drizzle in olive oil and continue mixing to fully incorporate. Once combined, add in milk, vanilla extract and lemon zest.

 

Slowly add in dry ingredients and gently mix by hand to combine (careful not to over mix).

 

Pour batter into prepared springform pan and bake for 33-35 minutes (or until a toothpick come out with a few crumbs stuck to it). The cake will be quite golden and that's totally okay!


With 5-10 minutes left in the baking process, make the syrup by combining the sugar and lemon juice in a small sauce pan over medium-low heat. Allow the sugar to melt, creating a clear, thin liquid.

 

Once the cake is done baking, immediately pour the syrup over the cake and gently brush to cover the whole surface. Let fully cool.


Top with fresh whipped cream and berries. Enjoy!