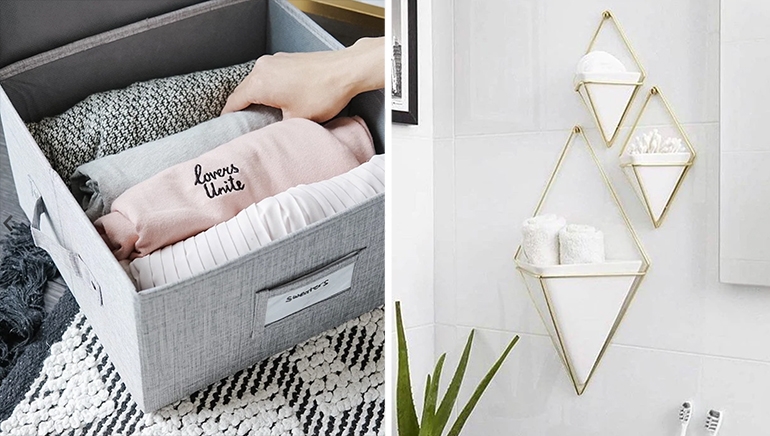 Decorating and furnishing a small space can have its challenges. You may have tons of clothing to store or products to organize, but not enough room to do it! Just because you live in a studio apartment or small home doesn't mean you need to have clutter. We have some advice for how to best optimize your space with tools like shelves, mirrors, and under-bed storage.
---
Under-Bed Storage
Beds often take up the most space in any given bedroom or studio space. If you love your queen bed but hate how much it prevents you from having a dresser, use the space underneath your bed for storage. Our Boxed Square Bed Risers will help lift your bed to provide additional space. Opt for our Codi Storage Bin or use shallow acrylic bins to store clothing, towels, or extra sheets underneath your bed. The extra storage can help you declutter any closet space or dressers.

---
Shelving
Whether you need extra storage in your bedroom, living room, kitchen, or bathroom, shelving is your best friend. One of the keys to making the most of your room is by storing "upwards." Rather than taking up floor space for all your items, you can utilize the wall space you already have by adding shelves.
In a bathroom, you can utilize space above your toilet for shelving. A lot of people opt for standing shelves that go around a toilet, but we recommend using wall shelves to save space on the floor. These Wall-Mounted Shelves are perfect for hand towels, skincare products, or even extra toilet paper.
Shelving also doesn't have to be an eyesore! If you usually put candles or flowers on your dresser but no longer have space to do so, you can use these Ceta Wall Shelves or Trigg Wall Vases to store smaller items right on your wall in any room.

---
Mirrors
Mirrors may not add storage space, but they can open up any room. By adding a few mirrors to your walls, you'll create the illusion of space. We love this Geometric Shelf & Mirror, which doubles as a small storage space and a room-opener. We also love this Minimalist Mirror, which can serve as a vanity mirror while also doubling the space in any room. Lean it against the wall on top of your dresser or hang it up, and it'll create space without clutter.

---