The change of seasons always feels like something worth celebrating, and your home in a great place to start. By infusing the season's quintessential colours into your home,  you can easily transform your home from your summer oasis to a cozy fall hangout. Here are a few subtle interior design upgrades that are perfect for this time of year.
---
Throw Blankets & Pillows
These simple decor items are the ideal finishing touch for any accent chairs or couches in your home. By adding an orange-, mustard-, or rust-coloured cushion or blanket, you'll instantly transform any room in your home into an autumnal sanctuary.
For optimal comfort and a trendy flair, opt for warm-toned leather or velvet throw pillows; and, you can never go wrong in the fall with a chunky knit or sherpa blanket.

---
Seasonal Candles
Whether you're seeking that pop of pumpkin-orange or want a more subtle look, there are plenty of candle options to choose from this time of year. Orange, yellow, and gold jar candles make wonderful accents on coffee tables and counters. And, you can opt for cozy scents like pumpkin spice or apple cider.
If you're currently burning a pillar candle you love, simply place it in a fall-coloured lantern so you can continue to enjoy the scents you love with a more seasonal look; and they'll cast a beautiful pattern on your walls!

---
Towel Sets
Jazzing up your bathrooms is an excellent way to kick off the fall and transform a neutral spot in your house. You'll blow your loved ones away when they see how a few candles and hand towels can bring the season to life; especially since the guest bathrooms can often be forgotten in the home decor process.
Reds, rusts, and yellows are all wonderful warm tones that are synonymous with fall; choose towels in these hues to make an easy seasonal change in your bathrooms.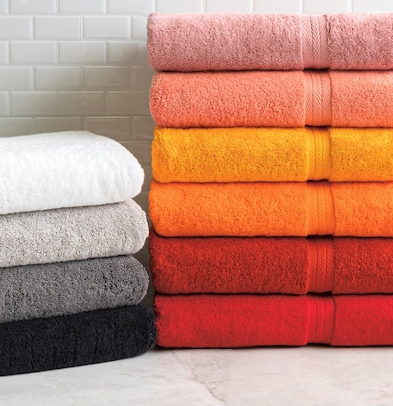 ---
All of these small adjustments are easy and cost-effective. And, most importantly, they make the change of seasons that much more special. Even the smallest design details pack a punch, so don't be afraid to add some fall flair to your space in these coming months.
---