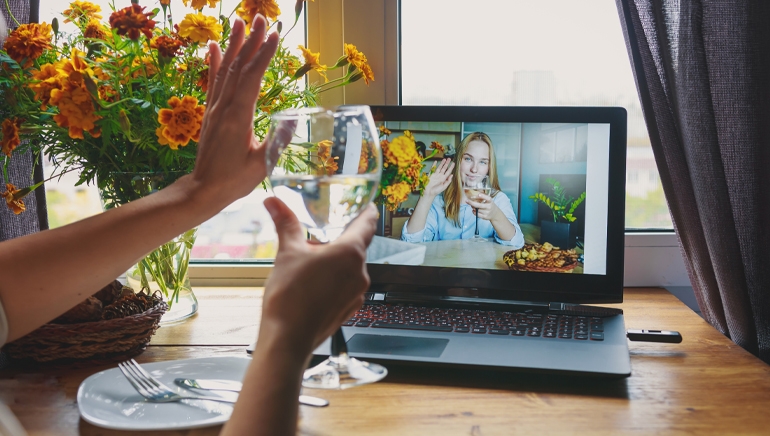 Thanksgiving is just around the corner and we're still not sure what the month of October will bring in terms of the COVID-19 virus.
For those who celebrate, it is typically a time for large gatherings while many delicious meals are shared. 2020 might be the year that Thanksgiving has to be celebrated remotely. Wondering how to make the best of it? We have an idea or two!
---
Celebrating Remotely
As people self-isolate and help curb the spread of the virus by staying home, more and more things are going to be done online. Many people deal with working remotely, living in different provinces than their parents, or being part of a long-distance relationship. There are plenty of ways to communicate from a distance - even if that distance is just down the street.
---
Long-Distance Dinner Dates
Setting up dinner dates over Skype or Facetime is a staple of long-distance relationships. Often, people will decide on a menu together, and set up a laptop or tablet during the preparation phase and eating phase of the meal. This means that people on both ends of the computer are eating the same food at the same time.
The key is to simulate spending in-person time together. Prep the ingredients together, cook together and then eat together. Make sure to include getting all dressed up as if you would be seeing each other in person.
It might seem silly but it will feel like you are doing something together!
---
Group Meals
There is no limit to how many people you can include in your online dinner date. Skype, Google Chat, FaceTime and Zoom all have the ability to have group chats. This means multiple people can all be cooking and eating together!
Just prop your tablet or phone up on a stand and go about hosting an entire Thanksgiving meal!
---
Getting the Ingredients
Once the recipes have been decided, it will be important for everyone involved to get their own ingredients. However, not everyone should be heading to grocery stores. If in the same area, you can appoint someone to purchase all the ingredients and safely distribute them. This could include dropping off groceries outside the front door of a home and sanitizing everything properly.
Otherwise, there are grocery delivery services that are taking precautions to minimize risks. Please make sure to inform the grocery store that they are delivering to a high-risk or ill person.
If you're not into cooking - you can always order! Try to order the same food and always make sure the delivery service knows of any risks.
---
Decorate for Thanksgiving
Even if the gathering in your home is online instead of in-person, make sure to decorate for Thanksgiving! It will help set the right ambiance and get everyone in the celebration spirit.
Enjoy your Thanksgiving celebrations and stay safe! Having a remote Thanksgiving will definitely be a memory you'll have forever!