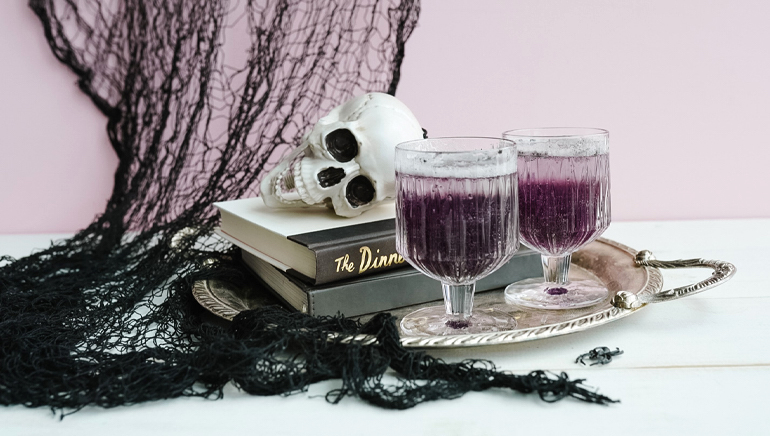 There are a variety of unique ways to celebrate Halloween at home. Carving a pumpkin, making some caramel apples, telling ghost stories by your backyard fire, hosting a costume fashion show... Or planning a scary movie marathon with the perfect Halloween beverage drink!
This fun sparkling grape pineapple drink is easy to make (only 4 ingredients!) and tastes just as good without alcohol. The secret ingredient to the creepy texture is grape jello; pair it with pineapple juice and lemon lime soda and you have yourself a sweet & fun thematic dessert drink. You can use blueberries and a round ice tray to make eyeballs (instructions below) and serve the drink in a vintage-style goblet to get the full "witch's brew" experience.
---
Ingredients
6 oz Grape Jello
16 oz Lemon-lime soda
1 1/2 cup Pineapple juice
1 cup Vodka (optional)
Black food colouring powder (optional)
Blueberries (optional, for eyeballs)
---
Instructions
Fully prepare the Jello as instructed on the box.
Once Jello is made, use a fork to break apart into small pieces, then add to a pitcher.
Add pineapple juice and vodka (optional) to the pitcher and stir well.
When ready to serve, add the lemon-lime soda into the pitcher until it's full. Pouring soda from high above will achieve extra fizz!
(Optional) Add a sprinkle of black food colouring powder on top for a more eerie appearance.
(Optional) Using a round ice tray, place one large blueberry in each cavity, add water and freeze.
---