With Spring in the air, it's time to bring out the bright and cheery fun to your dining room table. Investing in a new dinnerware set will not only update the look, but it'll get you ready and excited to host your next dinner party. Colourful florals, stripes, and polka-dots, today we've rounded up some of our favourite sets! All are available online or at any of our store locations. Enjoy:
1) Downtown 16 piece Dinner Set
Create a captivating table with smooth bold lines for a modern and stylish ambience.
$69.95 - Available, here.

---
2) Montecito Blue Collection
Host a party with our vibrant Montecito collection. Reminiscent of the Montecito colonial revival in California, these pieces echo their intricate designs and textures for a beautiful table setting. The Montecito collection embodies traditional sophistication with its hammered texture, rich blues and golden yellows.
$5.95 - $39.95 - Available, here.

---
3) Spode Sophia Dinnerware Collection
As durable as it is attractive, the Sophia Spode Dinnerware Collection is designed with everyday use in mind. Features a nice pattern and is chip resistant and easily handled. The multicoloured motifs serve as the ideal backdrop for your culinary creations and will enhance your table presentation.
Currently on sale: $8.98 - $39.98, Available, here.

---
4) Olive 16 Piece Dinnerware Set
This marvellous set stands out for its brilliant nature design of green on white. Perfect for everyday use or for special occasions.
$69.95 - Available, here.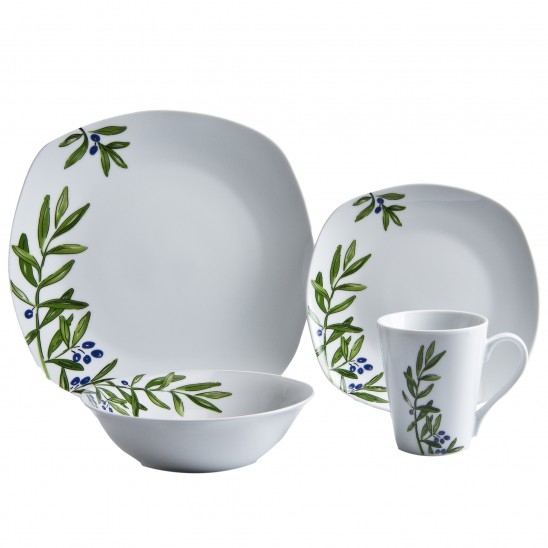 ---
5) Magnolia 16 piece Dinner Set
Red cheerful flowers on a bright white background give a fresh tone to any table.
$69.95 - Available, here.

---
6) Kate Spade Hopscotch Drive Dinnerware Collection
Porcelain pieces accented in solid colours, navy, and taupe with a colourful dot print to match.
$74.95 - $79.95, Available, here.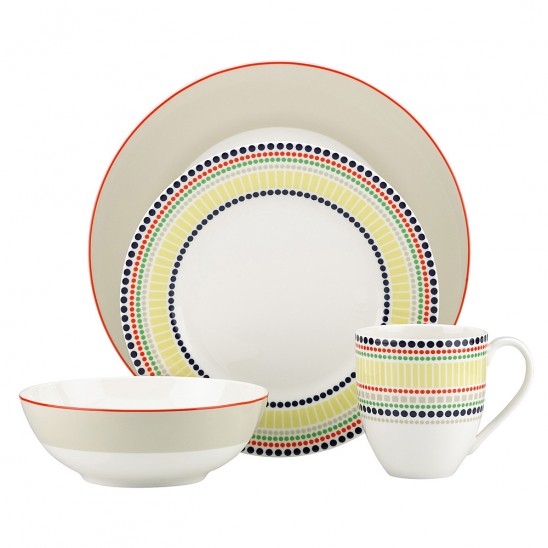 ---
7) Chirp Dinnerware Collection
The Chirp dinnerware by Lenox displays bright and bold watercolour-inspired birds and a floral pattern which will make any table stand out.
$39.95 - $219.95, Available, here.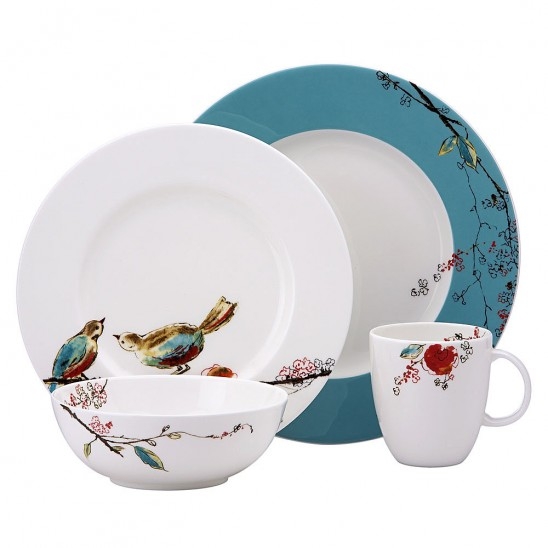 ---
8) French Garden Dinnerware by Villeroy & Boch
One of Villeroy & Boch's best selling dinnerware patterns ever is the French Garden collection. Make it your own by mixing & matching the different designs to give your table a fresh and lively look.
$19.95 - $210.95, Available, here.

---
9) Arty Collection by Luminarc
Arty Glass Dinner Collection brings a cheerful ambiance to every meal. The bold colourful glass has a contemporary look and feel. Arty is a collection available in different 3 colours which will allow you to mix and match.
$3.95 - $4.95, Available, here.

---
10) Mariefleur Grey Dinnerware by Villeroy & Boch
Make spring last longer with these painted blooms on the Mariefleur dinnerware. Soft blue, lilac and grey petals embellish the white porcelain for everyday dining.
$14.95 - $62.95, Available, here.

---
11) Kate Spade Gardner Street Green Dinnerware Collection
The definition of contemporary elegance! Green stems of foliage flourish on fine white bone china, creating a unique motif to freshen up your table. Platinum edges add a touch of luxurious shine.
$49.95 - $74.95 - Available, here.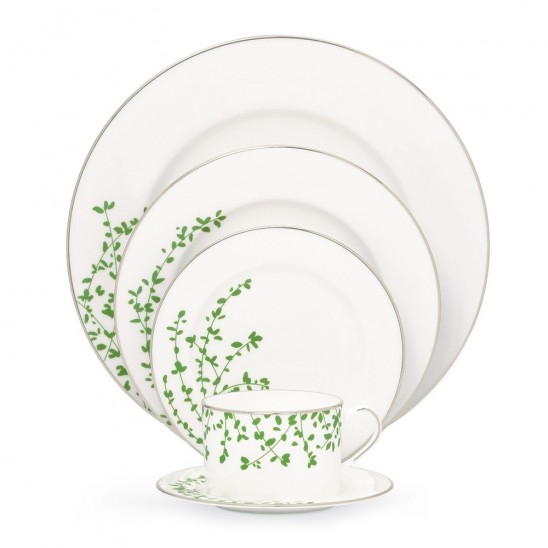 ---
12) Lina Dinnerware by Villeroy & Boch
A sweet mix of floral and geometric blooms, Villeroy & Boch's Lina collection combines the freshness and joy of a garden into each piece of premium porcelain. Beautiful shades of red, aqua, pink and gold will brighten up any table.
$15.95 - $79.95 - Available, here.

---
---

---