For those craving a warmer, more personal touch in the heart of the home — the kitchen, creating a farmhouse feel is a sure-fire way to inject some personality to your décor. Once associated with retro rooster prints and faded daisy wallpaper, farmhouse chic has come a long way.
Besides adding a farmhouse sink (a deep, large sink perfect for piling in the dishes) and doing major renovations, here are a few simple things you can add to your décor. Think warm woods, mixing & matching patterns, and stocking up on cookware/accessories to create a farmhouse-chic kitchen.
---
1) Open Shelves
When we think country, we often think of wide open spaces. This concept applies to the kitchen too. Open up your walls with the use of open shelves. Perfect for storing everything from your everyday dishes to grandma's heirloom platter, it's also a great way to display a few of your favourite pictures or kitchen accessories. We love this look of the clean white shelves contrasting with the warm wood countertops.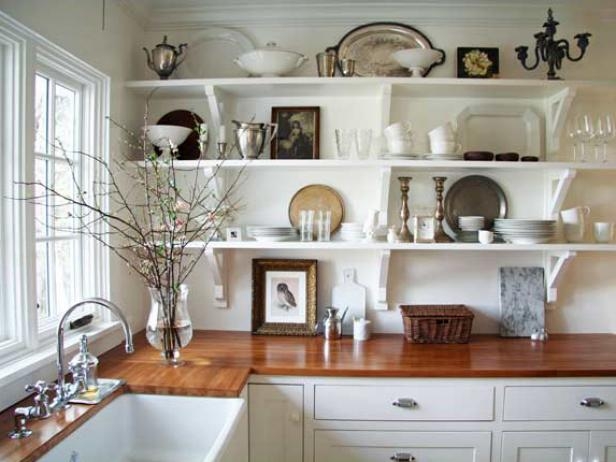 via
---
2) Mixing and Matching
Traditional farmhouse kitchens had character because not all of the pieces were purchased from the same store at the same time. Instead, pieces were passed on from family and lovingly collected over time. This applies to everything from big furniture pieces to dishes. Have mismatched chairs? No problem. Dishes don't match? All the better. To spruce up a previously-loved chair, try painting it in a pastel colour using milk or chalk paint.

via
---
3) Fun with Patterns
Creating a farmhouse-feel is all about creating a warm and inviting space to share meals. Infusing patterns in your kitchen with textiles is an easy way to achieve this. While mixing and matching is fun, try to select patterns with similar colours to prevent your kitchen from looking too busy.

via
---
4) Hanging Pots
Both a spacesaver and a decorative element, a row of hanging cooking pots and pans is sure to add a warm and welcoming feel. After all, what country kitchen is complete without a chef who loves to cook and serve up hearty meals?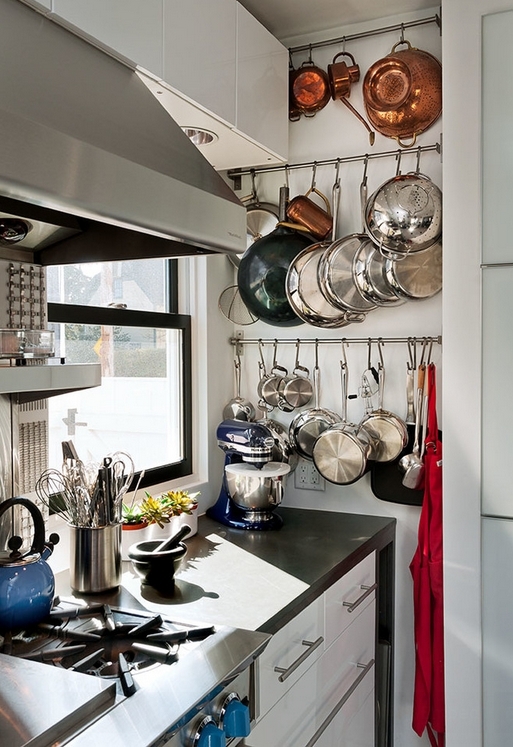 via
---
5) Warm Wood and Rustic Touches
Wood, particularly faded wood, lends a warm and well-loved feel to a space. Wooden chairs, stools and of course the kitchen table are all areas that are perfect for adding a rustic touch. If you don't want to overdo it, consider adding accessories such as wooden bowls or vases.

via
---
GET THE LOOK:


SHOP THE ITEMS:
1. BIA Serverware Collection
2. Bird & Branch teapot 30 ounce-white
3. Postage Table Linens Collection
4. Cheeseboard Medium Bar
5. Torre & Tagus Costa Carved Wood Collection
6. Selena Footed Cake Platter With Dome
7. Le Creuset red 6.9 L round casserole
8. Greenpan Egg Expert 12cm Fry Pan
9. Trudeau Swing Bottle 34 Ounces
10. BIA chalkboard mug 14 ounce assorted