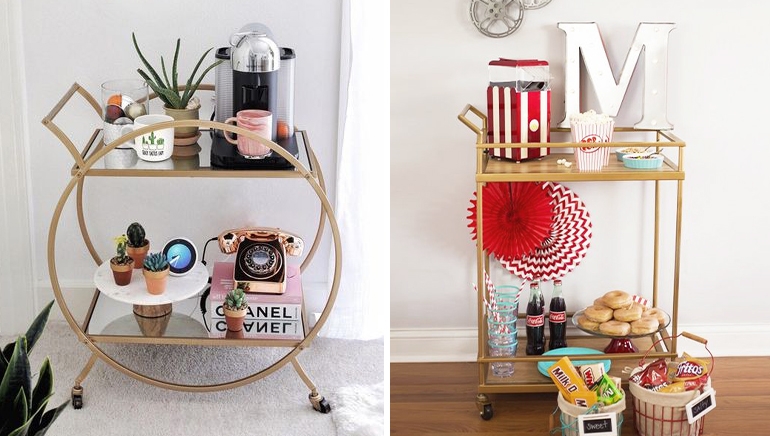 With their increased popularity, bar carts are no longer all about storing and displaying liquor. They're a fun decor element that can be adapted for any occasion or curated to your day-to-day preferences.
Whether you want to keep your cart kid-friendly or switch up its look for your next shindig, check out these transformative ideas.
---
1) Create Your Own Coffee Station
Most of us are guilty of collecting more decorative mugs than we know what to do with. But, you can put all of those beautiful cups on display by making your own caffeine cart. Just place all of that stoneware alongside your french press or coffee machine; then, add your favourite pods to a coffee capsule rack for easy access. Or, place your coffee grounds in a decorative container.
Tea lovers can also make use of this cart by replacing the coffee machine with an electric kettle and a tray of assorted teas. This beautiful display also makes guests feel at home and welcome to grab what they want.
---
2) Set Up a Movie-Night Concession Stand
The next time you host a marathon or want to create a fun night-in for the kids, use your bar cart to create that home-theater feel. Place your popcorn maker on the top rack with some bowls so that everyone can help themselves to their own serving.
Don't forget to offer an assortment of sweets for everyone, including chocolate morsels, sour candies, or fruity treats. You can also create a fun display by offering vintage glass soda bottles with colourful straws.
---
3) Display Party Favours
It's always nice to offer guests a little something to remember your gathering by on their way out. Something small like a funny mug or jar candle goes a long way and can be wrapped nicely in some cellophane with ribbon.
Alongside your selected parting gift, you can include a guest book for loved ones to record all of the fun memories you create in your home. Or, you can provide a polaroid camera with film so that guests can leave you with live-action shots of all the fun from the night.
---
They sky's the limit with your bar cart, so don't hesitate to try out a new look whenever inspiration strikes. These stunning stands are versatile and help optimize your home storage with a decorative flair — so make the most of them!
---
A Few of Our Bar Carts:
Shop all >
---
Looking For Inspiration?
We scoured Pinterest for some of favourite looks: