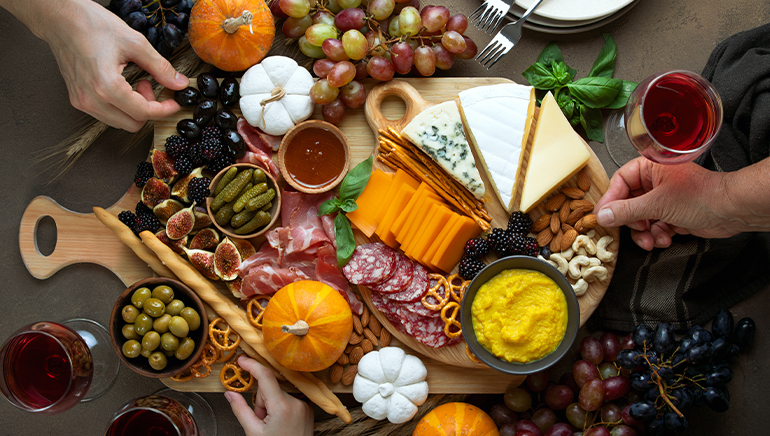 A cheese board brimming with the richness of the season's harvest can set the perfect tone as the centrepiece of any fall gathering. Whether hosting a large group or planning an intimate evening, a beautifully crafted cheese board will surely be a crowd-pleaser. Follow these three ideas to wow your guests with a delightful spread that embraces the season's flavours and colours.
---
Decorate the Board With Mini Pumpkins or Gourds

The first rule of making charcuterie boards is to lay down the largest elements first. So, start building your board by placing a mini pumpkin or a couple of small gourds around the surface. These will be the focal points that help you decide where to lay out the cheeses, dried fruits, crackers, and nuts.

They're the perfect autumnal touch. Plus, they'll keep your board looking nice even as your guests pick away at the other ingredients on the board.

Choose Seasonal Spreads to Amp Up Your Cheeses

You don't have to stray from your most beloved types of cheeses to change up the flavour profile of your cheese board. You can stick with fan-favourites like cheddar, goat cheese, and brie by simply adding a delicious spread that reflects the flavours of the season.

Pour some pumpkin butter over warm brie for a mouthwatering salty and sweet combination. You can also drizzle some maple jam on top of a log of goat cheese that guests can easily dip a cracker into. Or, perfectly pair the tastes of cheddar and apple by offering an apple butter in a ramekin next to your cheese. Make sure to complete your setup with all the essential cheese knives and spreaders, thoughtfully arranged near your cheese board.

Offer Fall-Themed Crackers

When curating a cheese board with autumn in mind, your choice of crackers is vital for infusing that warm fall touch and achieving a delightful fall-themed aesthetic. You can opt for seasonal crackers with hints of distinctive seasonal flavours, such as pumpkin, maple, cranberry or cinnamon. You can also incorporate artisanal crackers made with nuts or seeds for a satisfying crunch that pairs beautifully with creamy cheeses. To help elevate your cheese board's visual appeal, consider adding fun crackers shaped like maple leaves, apples, or pumpkins.