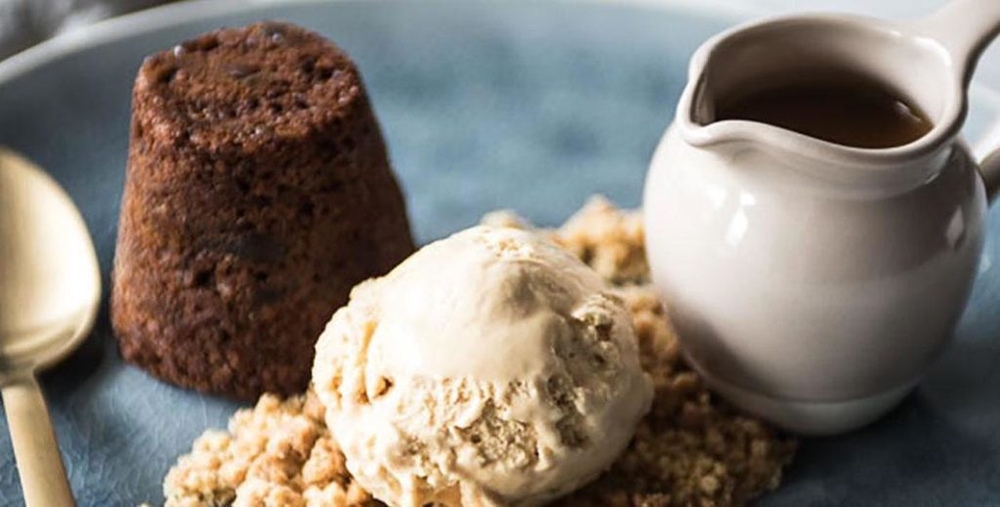 This heart-warming dessert is the perfect way to finish off an evening. The combination of crunchy almond crumble and praline ice cream is a match made in heaven with this traditional sticky date pudding. We served this dessert on a plate from our beautiful Artisan collection.

---
Ingredients
For the Sticky Date Pudding:
285g pitted dates, halved
250ml boiling water
1 teaspoon bicarbonate of soda
80g butter, at room temperature
100g caster sugar
2 eggs
115g self-raising flour, sifted
75g plain flour, sifted
For the Butterscotch Sauce:

185ml pouring cream
160g brown sugar
60g unsalted butter, chopped
For the Almond Crumble:
50g flour
50g icing sugar
50g butter
35g almond meal
For the Praline Ice-Cream:
600ml cream
600ml milk
1 tablespoon glucose
12 egg yolks
150g sugar
1 tablespoon milk powder
2 tablespoons pistachio praline
---
Method
For the Sticky Date Pudding:
Preheat oven to 170°C
Brush six 185ml (¾ cup) non-stick muffin pans with melted butter to lightly grease and line the bases with non-stick baking paper.
Combine the dates, water and bicarbonate of soda in a bowl. Set aside for 10 minutes to soften and then use a fork to coarsely mash.
Use an electric beater to beat the butter and caster sugar in a bowl until pale and creamy. Add the eggs, one at a time, beating well after each addition. Fold in the date mixture and the combined flour. Spoon the mixture into the prepared pans and smooth the surfaces.
Bake in oven for 25-30 minutes or until the surfaces spring back when lightly tapped. Set aside in the pans for 5 minutes to stand before turning onto a wire rack to cool slightly.
For the Butterscotch Sauce:
Place the pouring cream, brown sugar and unsalted butter in a saucepan over medium heat.
Cook, stirring, for 5 minutes or until smooth.
For the Almond Crumble:
Preheat oven at 160°C.
Place the flour, icing sugar, butter and almond meal in a food processor and turn to fine crumbs.
Bake on an oven tray at 160°C, mixing it up every 10mins with a fork until golden.
For the Praline Ice-Cream:

Heat the milk, cream, glucose until about to boil then turn down to low simmer.
Meanwhile, melt 150g sugar in a heavy based pot until soft crack (135°C) then slowly whisk in the cream mix until completely mixed in. Immediately pour onto whisked egg yolks and bring the temperature up to 75°C. Chill until cold, then churn in an ice cream churner until doubled in volume and add praline mix. Then freeze.
Complete this dish by styling with our beautiful gold cutlery and a drizzle of the butterscotch sauce over the pudding. Enjoy!
---