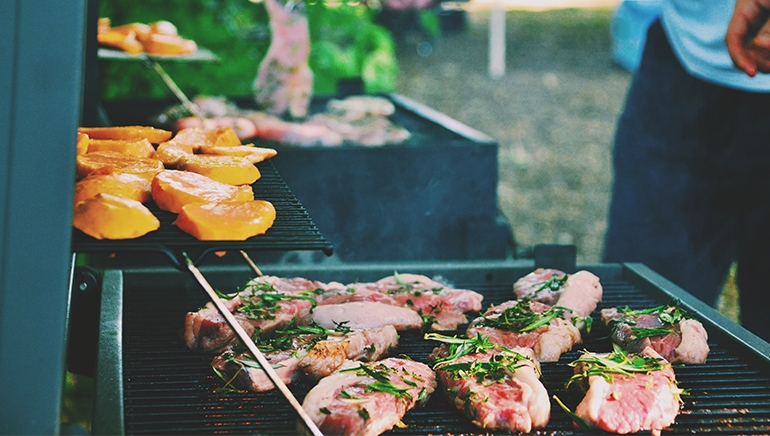 With soaring summer temperatures, cooking dinner has us avoiding the oven at all costs. Besides, who wants to spend their dinner party washing pots, pans, and other paraphernalia crowding a hot kitchen? Check out these easy ideas to take the hassle out of hosting by bringing all your cooking outside to the mighty grill. No mess and less prep mean more time spent enjoying friends and your backyard bash.
---
Appetizer
Make your app a snap with an easy grilled element. Intensifying a single ingredient with sweet, charred grill marks is about all you need to make your appetizer sing. Start with our Trudeau Glass Oil Spray Bottle to grease up your grates with full and even coverage. You're already off to a great start, no sticking! Toss on artichoke halves for smoky, earthy flavour and serve alongside melted butter for a party-friendly snack, or grill up slices of halloumi cheese to top crackers or toasted pita for an unexpected bite. Don't forget a dash of fresh lemon juice to brighten everything up using our trusty citrus squeezer!

---
Entrée
Sure, grill up burgers and dogs, no one will complain! But to add some four-star flair, grill salmon filets and serve on a bun with butter lettuce and tartar sauce. Or, wow your guests with a grilled flatbread topped with a mass of fresh arugula and ribbons of store-bought prosciutto. Our Zwilling J.A. Heckels Silicone Spatula is the sturdy tool you need for epic flipping, and will transfer your grilled goods from the grates to the plate in perfect condition. If your #teamtongs while mastering the grill, try our Oxo Good Grips 12 inch Tongs, to move around grilled meats or fish.

---
Dessert
Forget rolling out crusts or macerating berries for time consuming fruit pies. Toss fresh halved peaches on the grill, and use our Ricardo Silicone brush to kiss the beauties with a little butter and brown sugar for grilled caramel goodness. If peaches aren't your thing, try nectarines or pears! As long as you don't forget a photo-ready scoop of vanilla ice cream, compliments of our Ricardo Ice Cream Scoop, guaranteed to impress.

---
Summer get-togethers are meant to spend quality time with family and friends, not your pots and pans. These simple tools and easy recipe ideas will make grilling a breeze, so you can enjoy the outdoors with your cherished guests. So fire up the grill, crack open a cold drink, and celebrate summer!