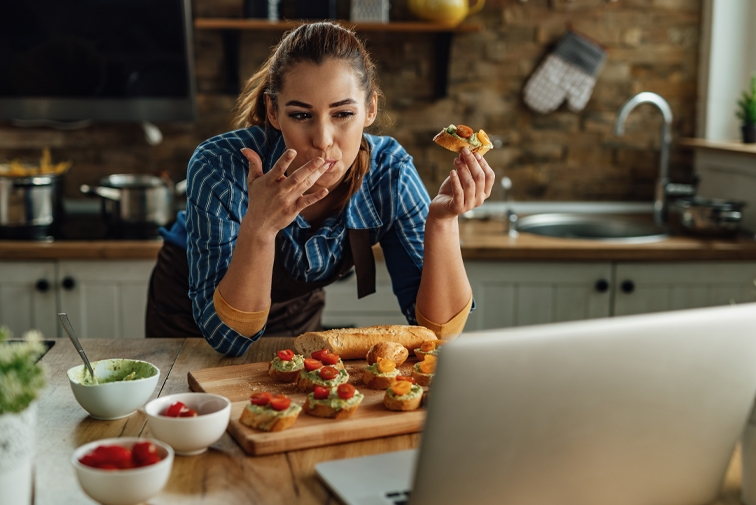 Being stuck at home doesn't mean you have to feel disconnected from everyone in your life. You might not be able to be next to them, but you can definitely still hang out virtually!
Sharing food is so often a means of connection - and dinner parties are no exception. Hosting them virtually requires a little more preparation but can be a great replacement while we do our part in flattening the curve and staying inside.
Whether you want to host other family members, your friends or even a work social, we have some main tips for hosting the best virtual dinner party.
---
1. Keep the Guest List Small
Virtual events have to be a little bit more intimate for them to be a success. Using an online platform means that only one person can speak at a time, instead of the usual side conversations that naturally happen in person. Inviting four to six people should be the maximum number of invitees because you can't break off into smaller conversations.
Too many people on a virtual call means having to fight your way into the conversation, which causes some people to remain quiet and not participate. The bigger the get together, the harder it will be to actually have a flow of conversation.
Keep it small and everyone will feel like they were part of the evening event.
---
2. Share a Recipe
You could try cooking the exact same meal as if you were physically in the same location, but that might not be super practical. Instead, there are a few options that will make the event feel cohesive. You can share a recipe or two for everyone to cook at their respective homes, or you can plan a themed meal and see what everyone comes up with.
Not everyone will be able to access every ingredient in time for the dinner, so aim for recipes that can be super adaptable - preferably with simple ingredients.
Hosting a BBQ-themed dinner is a great, simple way to welcome in the spring!
If you don't want to watch everyone eat on camera, you can always choose to host a virtual cooking party or a happy hour.
Looking for recipe ideas? We have a few recipes you can try!
---
3. Set Up Properly
Just because no one is coming over to your house, doesn't mean you should skip out on the decorations. The long days of quarantine can start blending all together, so break the mould and go all-out for your virtual dinner party.
Spruce up your table - whether inside or outside on your patio, get dressed up, and open a nice bottle of wine. Encourage your friends to do the same. It will be a welcomed change!
Don't forget to leave space on the table for your laptop or cell phone!
---
4. Encourage Conversation
It might be a little awkward at first as everyone settles into their seats and adjusts their microphones, but it doesn't have to stay that way.
Plan a few ice breaker questions to get the conversation rolling, or have everyone show off what they cooked. It will be fun to compare what everyone is eating, especially if you opted to do a themed night or share specific recipes.
It's definitely okay to check in with people and see how they are coping with the isolation, but try to steer the conversation towards more positive topics. Focus on all the good stuff happening in people's lives.
Once everyone is done eating, you can continue the evening by playing some virtual games together. The clean up can wait!
Find the good in staying home >
---
Don't worry about making it a perfect virtual dinner party. This is new for most of us, so there will be moments of trial and error. The important thing is that you've spent some quality time catching up with friends and family in a unique way!
Have you had a virtual dinner party success? Let us know on Instagram!
---

---