With Mother's Day just around the corner we've decided to round up a few of our favorite gift ideas to take the guesswork out of gift giving for Mom. We'll admit that it can be just a little daunting to pick out the perfect gift for someone who has already given so much of herself, but trust us when we say, "it's the thought that counts!"
---
Gifts for the Blissful Baker:
Perfect for the Mom who's known for her signature chocolate chip cookies and has participated in her fare share of school bake sales, these gifts are right up her alley!


SHOP THE GOODS: 
1. Icing Decorating Set
2. KitchenAid Mixer 
3.Rolling Pin
4. Silicone Baking Sheet
5. Cupcake Towel
---
Gifts for the Beauty Queen:
Beautiful from the inside out, this Mom finds time to squeeze in a weekly manicure between play dates and pilates.

SHOP THE GOODS:
6. Nail Polish Organizer
7. Perfume Bottle
8. Double Crystal Mirror
9. Bath Massager
10. Aroma Diffuser Refill
11. Whitewater Candle
---
Gifts for the Green Goddess:
These gifts are for the girl with a green thumb! This Mom loves her afternoon tea, fresh vegetables from her garden and always has fresh herbs on hand.


SHOP THE GOODS:
12. Flower Pot Tea Infusers 
13. Herb Savor
14. Garden Tool
15. Planter With Scissors
16. Tea Infuser
17. Vegetable Brush
18. Herb Mill
---
Gifts for the Decorating Diva:
This Mom is a style maven and her closet isn't the only thing she loves to decorate! Embellished accent pillows, funky picture frames and conversation pieces adorn her home with personality.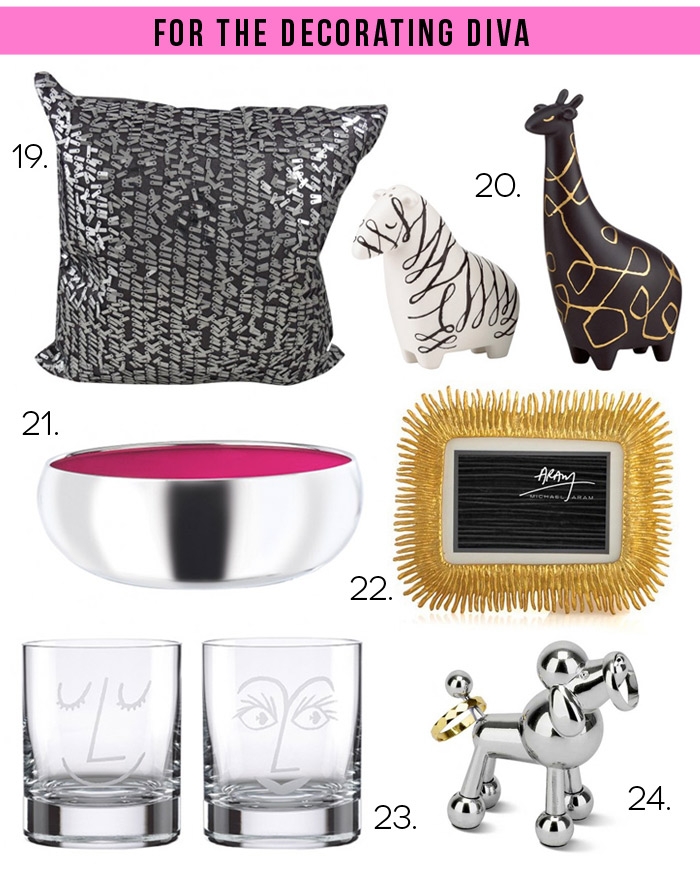 GET THE GOODS:
19. Glitter Cushion
20. Salt & Pepper Shakers
21. Stainless Steel Pink Bowl
22. Sunburst Frame
23. Kate Spade Old Fashion Glasses
24. Poodle Ring Holder
What would YOU enjoy getting this Mother's Day? Let us know in the comments below :)
---