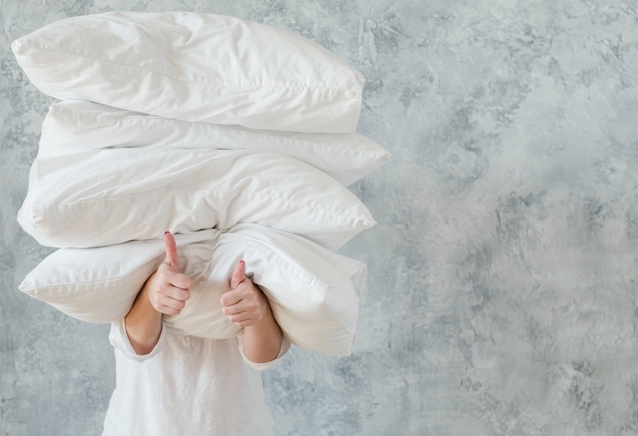 Your bedroom should be your own personal sanctuary. The perfect place to unwind, the coziest room in the house, and the most reflective of who you are with a smorgasbord of colours and textures.
You should also make sure your sanctuary is cared for properly, so we put together some tips to keep your bedding clean and healthy!
---
General Cleaning Tips:
To maintain the quality of your bedding, you should avoid products that can weaken the natural fibres. This means avoiding hard liquid and powdered detergents, avoid fabric softeners and bleaching agents. Always follow the label instructions for different types of materials.
Wash similar colours and fabrics together and avoid throwing clothes into the same washing load. Zippers, buttons and hooks can cause damage to the bedding.
Follow the label instructions for best drying practices, but usually, you should tumble dry in low heat. Most bedding items should be completely dry upon removal from the machine. However, bed sheets that are going to be used immediately can be removed before they're fully dry in order to minimize wrinkles.
---
Washing Your Fitted Sheets and Flat Sheets:
Wash your fitted sheets and flat sheets weekly. Dead skin cells, body oils, and lotions can accumulate on these sheets, which in turn can attract dust mites. Washing them once a week will remove dirt, oil and dust. If you can't wash them once a week, wash them once a month at the very least. As an exception, if you're recovering from being ill, wash them right away at the hottest setting in order to kill germs.
Using a top sheet between you and your duvet is preferred for cleanliness.
---
Washing Your Pillow Cases:
Your pillowcases should be the bedding item that you wash the most frequently, especially if you have sensitive skin, acne-prone skin or wear makeup to bed. They should be washed at least every week.
---
Washing Your Duvet Cover:
The washing frequency for your duvet cover will change depending on how you sleep. If you sleep directly with the duvet cover without a top sheet, you should wash the cover weekly. If you use a top sheet, then a monthly wash should be sufficient.
---
Washing Your Decorative Pillows and Throws:
If these decorative items hardly come in to contact with your skin, then they can wait to be cleaned every three months.
However, never place items like luggage, purses, backpacks, smartphones, or shoes on to your bed because this can transfer germs and dirt.
---
Washing Your Pillows:
Most pillows are machine-washable and should be washed every three to six months, which means a minimum of twice a year. You should be able to wash two pillows at a time with liquid detergent as it is less likely to leave a residue. Pillows should be put through a second rinse cycle without any detergent and then dried completely before being covered and used.
---
Washing Your Duvet:
The duvet insert should be washed between three to six months, with six months being the absolute maximum. Of course, using a duvet cover and a top sheet will reduce the amount of dirt and dust mites in your duvet.
---
Caring for Your Mattress:
There are two things you should be doing to help extend the life of your mattress. The first one is to flip it end-to-end once per season. The second one is to get yourself a mattress cover. Mattress covers help keep stuff off and out of the bed - including perspiration from your body. Mattress toppers can also help add comfort and support to an older mattress.
---
Washing Your Mattress Cover:
Mattress protectors improve the lifespan of your mattress by helping keep all the gross things out of it like dust mites. A mattress pad that can fit in the washing machine should be washed every three to six months. Mattress toppers that cannot fit in the washing machine should be brought to the dry cleaner every six months.
---
Your bedroom is your happy place, so make sure to take good care of your bedding so it can remain a healthy place.
---