Wondering what Christmas drinks you should make for your holiday party this year? We've got you covered with a few of our favorite holiday cocktails plus a fun mocktail!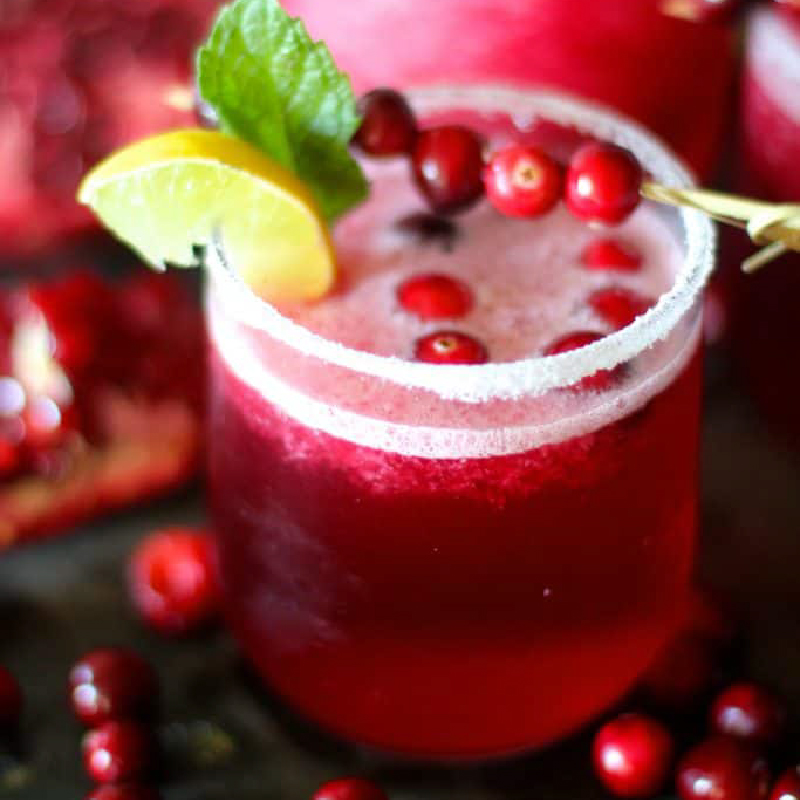 Cranberry Pomegranate Margarita
Recipe is courtesy of The Seaside Baker
Ingredients
2 cups ice

8 oz white tequila

2 oz triple sec

2 oz pomegranate juice

2 oz cranberry juice

Lime wedges

Coarse salt

Pomegranate seeds or fresh cranberries
Instructions
Add all ingredients into a blender and blend for 25 seconds or until desired texture is achieved.
Salt the rim of your cocktail glass and pour in your drink. Garnish with pomegranate seeds or fresh cranberries. Enjoy!
---

2.Peppermint White Russian Cocktail
Recipe is courtesy of By Gabriella
Ingredients
1 part vodka

1 part Kahlua

1 part half & half

1 dash peppermint extract

1 candy cane, crushed

Chocolate syrup
Instructions
Dip your glass in chocolate syrup and then roll in crushed candy cane to rim. Pour vodka, Kahlua and peppermint extract over ice and then top with half and half. Enjoy!
---

3.Sugar Cookie Martini
Recipe is courtesy of Grandbaby Cakes
Ingredients
½ cup milk

(any milk but skim)

¼ cup Irish cream

2 oz vanilla vodka

2 oz white chocolate liquor

Ice

Whipped vanilla frosting

Holiday sprinkles
Instructions
Line the rim of your glass with vanilla frosting and apply sprinkles. In a cocktail shaker, combine milk, irish cream, vodka and chocolate liquor. Add ice and shake until combined. Pour into glass. Enjoy!
---

4.Sparkling Cranberry Lime Mocktail
Recipe is courtesy of Food Lovin Family
Ingredients
10 oz fresh cranberries

1 cup water

1 cup sugar

24 oz sparkling lime water

Sugared cranberries or lime wedge for garnish
Instructions
Chop cranberries in a food processor and add to a medium saucepan with water and sugar over medium heat. Cook until sugar dissolves. Remove from heat and strain to remove cranberry chunks.
Fill highball glass with ice and ¼ cranberries (optional). Add 2 tablespoons cranberry syrup. Fill with sparkling lime water and garnish with lime wedges or sugared cranberries. Enjoy!